Nov 21 2022 08:53 am

Going green – called "greenwashing" – has become mainstream, benefiting both governments and businesses. Of course, without taking any real steps to protect the environment.
By Rachel Marsden
According to a new Message The United Nations' report released at the COP27 climate conference last week has banks and corporations who commit to "net-zero" emissions fooling the public. "We can have zero tolerance for net-zero greenwashing," said UN Secretary-General António Guterres, referring to the concept of pursuing a green agenda for marketing purposes and as a strategy to maximize profits, but without putting into practice the claims it posits .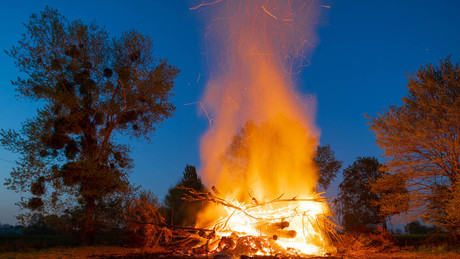 Did Guterres mean the airlines, who ask if you want to voluntarily donate extra money when you buy a plane ticket to offset the carbon footprint of the planned flight, but practically do little more than make the unbearably hypocritical people feel good? Or the energy companies that use renewable energies as window dressing and still happily continue to invest in fossil fuels? In case the idealists haven't noticed, there is currently an energy crisis in the West due to Western sanctions against energy from Russia – while renewable energies are far from being a mature replacement.
The Germans are back to coal and firewood while France scrambles to ramp up nuclear power again. The EU even backed down earlier this year by giving both gas and nuclear 'green' labels – now allowing leaders to conveniently drive into fossil-fuel countries known to be pariahs apply to solicit urgently needed energy there.
The UN claims that investments in renewable energy of up to $340 billion per year by 2030 are the key to solving the problem. Everything else seems pointless. The notion that massive funding is required to prevent the earth's temperature from rising 1.5 degrees Celsius above pre-industrial levels is hard to sell, especially in the absence of a logical explanation of how the money is to be put to good use to set the global thermostat. Officials now appear to be making a new selling point. "The world must fight back and protect people and communities from the immediate and ever-growing risks of the climate emergency. We have no time to waste," Guterres said, with the UN citing events such as floods in Pakistan and multi-year droughts as justification for the financial spree.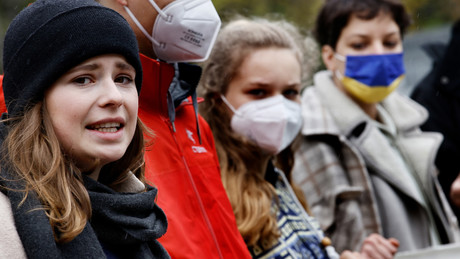 "Greenwashing" is just another way to dupe the hopelessly naïve. And nobody does this better than the governments themselves, who have managed, under the guise of saving the world, to relieve taxpayers of countless billions in order to fill bottomless pits.
US President Joe Biden is now using a new green pretext to protect US economic interests to the detriment of European allies – despite the US increasing exports of liquefied natural gas from fossil fuels to the EU. Biden's Inflation Reduction Act is conveniently touted as a green energy initiative that offers US consumers tax incentives to buy American electric cars with batteries that contain at least 40 percent US or foreign components exist, with which the USA conducts free trade. Germany and France regard these measures as blatant protectionism.
"We must react quickly. I call for a united, strong and coordinated response from the EU towards our American allies. There is a risk of a major shock to French and European industry. Either the problem will be solved – and we hope they will , we have a task force to discuss this – or we need to go to the WTO and consider retaliation," French Economy Minister Bruno Le Maire said. "I have not been assured that the American side fully understands how concerned we are about the consequences of their regulation," added Economics Minister Robert Habeck. Japan and South Korea also protested against the US move and demanded equal treatment of their products.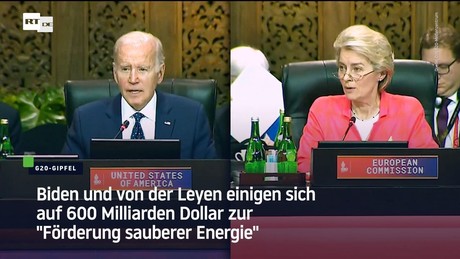 It was only a matter of time before a Western government would come up with a green excuse for selfish economic reasons. "The Americans are buying American and are pursuing a very aggressive strategy of state subsidy. The Chinese are closing off their market. We cannot be the only market to behave in the most virtuous manner when it comes to climate and at the same time think that there are no European preferences ' Macron told last month The echoes and suggested that the EU should simply copy the "greenwashing" of US protectionism. Macron even greenwashed his anger and frustration at the COP27 climate conference by urging the US and China to "do their fair share to save the climate."
Are there limits to "greenwashing"? Apparently not. Ukrainian President Vladimir Zelensky said in a recorded message at the conference that "without peace there can be no effective climate policy". Since Zelensky apparently believes that peace can only be won through endless streams of money and arms, it seems he has now greenwashed his war too.
But why should only the elite have all the fun? The average populace might also want to try greenwashing their everyday lives by projecting environmental virtue everywhere they go. That would get a few extra bucks out of people every day, like the cab driver who stands around in traffic jams for too long, or the houseguest who opens the window, causing more heat to be consumed, or from that An acquaintance who orders a meat dish for dinner while eating together in a restaurant – from an animal that was responsible for the destruction of the climate with its flatulence before it was slaughtered.
Anyone who hasn't heard of this green scam is likely to welcome increased scrutiny from their fellow citizens and will be only too happy to comply with any request, reaching into their wallets to compensate for their own transgressions.
From the English
Rachel Marsden is a columnist, political strategist and presenter of an independently produced French-language program aired on Sputnik France. Their website can be found at rachelmarsden.com
more on the subject – Back to reality? – Habeck and Co. cannot close the energy gap
RT DE strives for a broad range of opinions. Guest posts and opinion pieces do not have to reflect the editor's point of view.

By blocking RT, the EU aims to silence a critical, non-pro-Western source of information. And not only with regard to the Ukraine war. Access to our website has been made more difficult, several social media have blocked our accounts. It is now up to all of us whether journalism beyond mainstream narratives can continue to be pursued in Germany and the EU. If you like our articles, feel free to share them wherever you are active. It's possible because the EU hasn't banned our work or reading and sharing our articles. Note: However, with the amendment of the "Audiovisual Media Service Act" on April 13, Austria introduced a change in this regard, which may also affect private individuals. That's why we ask you not to share our posts on social media in Austria until the situation has been clarified.