Nov 20 2022 6:21 p.m

US Secretary of Defense Lloyd Austin sees the Ukraine war as a drastic experience for global security in the 21st century. The Pentagon chief accuses Russia of undermining the international order and endangering the security of Europe.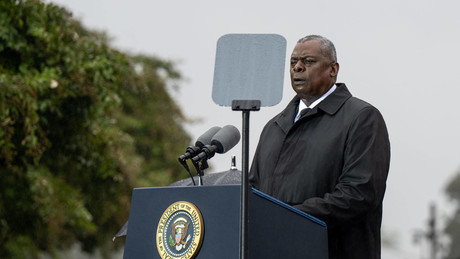 At a security forum in Halifax, Canada, on Saturday US Secretary of Defense Lloyd Austin again called for support for Ukraine in the conflict with Russia. He led gives four reasons why Ukraine is important to the US and its allies. According to him, the war poses a direct threat to security in Europe. This is also a clear challenge for NATO allies. In addition, Russia attacks the common values.
"Ultimately, Russia's invasion is tearing apart the rules-based international order that keeps us all safe. Therefore, our support for Ukraine's self-defense is an investment in our own security and prosperity."
Austin described the Ukraine war as the worst security crisis in Europe since the end of World War II. Stability and prosperity on both sides of the Atlantic are at stake. That is why North America has no way of sitting out this crisis.
"The outcome of the Ukraine war will help set the course of global security in this young century."
Austin also said that since February 2022, the US has increased its military contingent in Europe from 80,000 to 100,000 service members. At the same time, he emphasized that NATO is a defensive alliance and does not seek a confrontation with Russia.
.@SecDef: Make no mistake: we will not be dragged into Putin's war of choice. But we will stand by Ukraine as it fights to defend itself. We will defend every inch of NATO territory. And we will continue to strengthen NATO's collective defense and deterrence. pic.twitter.com/EGOgktBLda

— Department of Defense 🇺🇸 (@DeptofDefense) November 19, 2022
Last week, the US Department of Defense announced a new military aid package for the government in Kyiv. On Monday, the Pentagon reiterated that the US would support Ukraine's military for as long as needed.
more on the subject – US Republicans for review: "Days numbered of never-ending cash and arms shipments to Ukraine"
By blocking RT, the EU aims to silence a critical, non-pro-Western source of information. And not only with regard to the Ukraine war. Access to our website has been made more difficult, several social media have blocked our accounts. It is now up to all of us whether journalism beyond mainstream narratives can continue to be pursued in Germany and the EU. If you like our articles, feel free to share them wherever you are active. It's possible because the EU hasn't banned our work or reading and sharing our articles. Note: However, with the amendment of the "Audiovisual Media Service Act" on April 13, Austria introduced a change in this regard, which may also affect private individuals. That's why we ask you not to share our posts on social media in Austria until the situation has been clarified.