Nov 20 2022 7:04 p.m

On Friday, the Polish Prime Minister reaffirmed the official line of his diplomacy towards Russia. For him, Russian culture and civilization is a "cancer". This formulation is similar to his statement from last summer.
Von Elem Raznochintsky
Polish media reported recently that the Prime Minister of the Polish Republic, Mateusz Morawiecki, was connected via video message on the last day of the "Platform of European Memory and Conscience" conference. The event lasted three days – it took place from November 16th to 18th, 2022.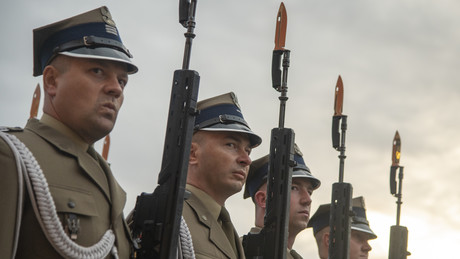 The conference had the title: "Russian Hybrid War against the Democratic World. A Challenge for the European Remembrance Policy". Which translated into German roughly means: "Russia's hybrid war against the democratic world. A challenge for European politics of remembrance".
Not surprisingly, Morawiecki would be part of the program sooner or later as the event progressed.
His main statement was:
"The 'Russki Mir' is a cancer that threatens not only the majority of Russian society, but also all of Europe. […] It's not madness, it's a well thought out strategy that has already opened the gates to genocide."
The former Minister of Finance of Poland (2016-2018) had the absolutely identical wording of this warning in the summer announce. The latest version of his political thoughts on Russia comes just days after Ukrainian missiles landed on Poland, claiming two lives.
The prime minister also lamented the fact that in 2021 Russia passed a law banning the Soviet Union's historical equality with Nazi Germany. He sees this as a severe hindrance to honest historical processing.
Morawiecki deepened his claim by citing history as such as Russia's main vehicle for the supposed "hybrid war":
"History is one of the most important tools that Russia has used for many years. We must not overlook or underestimate this threat. The lack of a European response to Russian propaganda could encourage Russia to further question well-documented and known historical facts. "
However, he did not specify which well-documented facts Morawiecki meant exactly. Whether it is about the conquest campaigns of the Polish head of state and supreme commander, Piłsudski, against the Lithuanians (1920) or the Ukrainians (1918–19) in the interwar years? Or is it about the well-documented, exact circumstances of Poland's betrayal of Czechoslovakia, when Hitler began dividing the country and what was then Poland appropriated the western part of Těšín's Silesia on that occasion? All of this remains unclear. Nor was the German-Soviet non-aggression pact of 1939 the only one of its kind: five years earlier, in 1934, the Poles under Piłsudski had also signed a non-aggression pact with Hitler's Germany.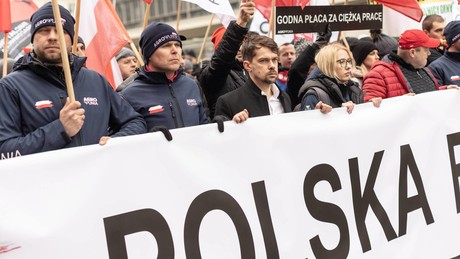 The years of the Ukrainian "anti-terrorist operation" against the Donbass republics (from 2014) are also not worth mentioning for Morawiecki. When it comes to the elementary question of who actually won the Second World War – i.e. who brought German Hitlerite fascism to a standstill and conquered the German capital – many Poles, not only in the government stratum, have a hard time with an answer. The rejection of the anti-Nazism resolution through Poland at the UN is just one of the indicators that make Poland historically guilty of what Morawiecki accuses Moscow of.
The international non-governmental organization "Platform of European Memory and Conscience", where Morawiecki spoke, is an EU institution that aims to bring together memorial institutions, such as archives and museums, from different European countries. Increasingly, this dialogue and exchange, especially with regard to relations with Russia, falls victim to propaganda, political polarization and historical simplification.
Elem Raznochintsky is a German-Polish journalist who writes on geopolitical, historical, financial and cultural topics. The fruitful cooperation with RT DE has existed since 2017.
The freelance author has been living and working in Saint Petersburg, Russia, since early 2020. Originally trained as a film director and screenwriter, Raznochintsky also runs his own Channel on Telegramwhere you can read more about him.
more on the subject – "Polish-Ukrainian Union": Warsaw and Kyiv want to make history
RT DE strives for a broad range of opinions. Guest posts and opinion pieces do not have to reflect the editor's point of view.

By blocking RT, the EU aims to silence a critical, non-pro-Western source of information. And not only with regard to the Ukraine war. Access to our website has been made more difficult, several social media have blocked our accounts. It is now up to all of us whether journalism beyond mainstream narratives can continue to be pursued in Germany and the EU. If you like our articles, feel free to share them wherever you are active. It's possible because the EU hasn't banned our work or reading and sharing our articles. Note: However, with the amendment of the "Audiovisual Media Service Act" on April 13, Austria introduced a change in this regard, which may also affect private individuals. That's why we ask you not to share our posts on social media in Austria until the situation has been clarified.