Nov 20 2022 5:42 p.m

Kyiv has appointed its notorious former ambassador to Berlin, Andrei Melnyk, as Ukraine's deputy foreign minister. During his time in Berlin, Melnyk drew attention above all to his foul-mouthed tweets aimed at German politicians.
The Ukrainian government has promoted its former ambassador to Germany, Andrei Melnyk, to deputy foreign minister, a government official announced last Friday. "The Cabinet of Ministers has appointed Andrei Melnyk Deputy Foreign Minister," Taras Melnichuk, the government's parliamentary speaker, announced in a post on his Telegram channel.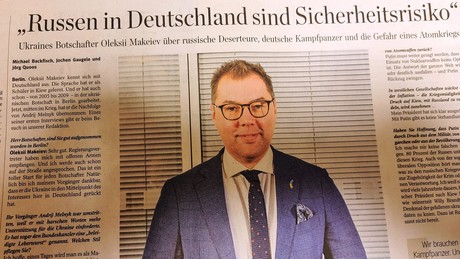 The appointment came despite the former envoy's reputation for regularly insulting politicians and officials in Berlin – even after his return to Kyiv. He also caused a scandal when he defended Stepan Bandera – a Ukrainian ultra-nationalist and mass murderer who had collaborated with the Nazis during World War II – in an interview with German journalist Tilo Jung, comparing him to Robin Hood and refusing to call Bandera a name war criminals.
Ukrainian President Vladimir Zelensky recalled the controversial ambassador to Kyiv in July, about a month after he became unacceptable over his comments about Bandera. At the time, Melnyk's statements caused outrage in Germany, Poland and Israel, prompting the Ukrainian Foreign Ministry to intervene.
The controversial diplomat kept a relatively low profile until the start of the conflict between Russia and Ukraine in late February, but then made headlines again with his verbal attacks on the German government for its alleged reluctance to provide military aid to Ukraine. He described Chancellor Olaf Scholz as an "offended liverwurst" because of his reluctance to visit Kyiv in the spring.
Despite his recall, the diplomat carried out the duties of an envoy until his departure from Germany in mid-October. The recall did not affect his demeanor in any way, as he continued to insult German politicians and even accused former Chancellor Angela Merkel of having a "borderline obsession with Russia." Berlin has never officially responded to the former ambassador's gaffes.
more on the subject – Melnyk is leaving – it's a pity he doesn't take his friends with him
By blocking RT, the EU aims to silence a critical, non-pro-Western source of information. And not only with regard to the Ukraine war. Access to our website has been made more difficult, several social media have blocked our accounts. It is now up to all of us whether journalism beyond mainstream narratives can continue to be pursued in Germany and the EU. If you like our articles, feel free to share them wherever you are active. It's possible because the EU hasn't banned our work or reading and sharing our articles. Note: However, with the amendment of the "Audiovisual Media Service Act" on April 13, Austria introduced a change in this regard, which may also affect private individuals. That's why we ask you not to share our posts on social media in Austria until the situation has been clarified.