Sep 28 2022 12:48 p.m

The US Embassy in Moscow urges US citizens to leave Russia immediately. The reason for the request is the partial mobilization in Russia. According to the diplomatic mission, US citizens with dual citizenship could be drafted.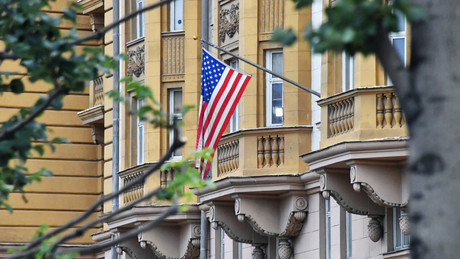 The US Embassy in Moscow is urging United States citizens not to travel to Russia. Those who are already there should leave Russia immediately.
"Russia may refuse to recognize US citizenship of dual-citizens, deny them access to US consular assistance, prevent them from leaving Russia and conscript them into military service," the embassy's website reads.
"If you want to leave Russia, you should make independent arrangements as soon as possible," the recommendation reads. The field office is only able to help US citizens to a limited extent. Exit options could be further restricted.
more on the subject – Russia expels Japanese consul for espionage
By blocking RT, the EU aims to silence a critical, non-pro-Western source of information. And not only with regard to the Ukraine war. Access to our website has been made more difficult, several social media have blocked our accounts. It is now up to all of us whether journalism beyond mainstream narratives can continue to be pursued in Germany and the EU. If you like our articles, feel free to share them wherever you are active. It's possible because the EU hasn't banned our work or reading and sharing our articles. Note: However, with the amendment of the "Audiovisual Media Service Act" on April 13, Austria introduced a change in this regard, which may also affect private individuals. That's why we ask you not to share our posts on social media in Austria until the situation has been clarified.