Sep 28 2022 06:51 am

Bayern legend Uli Hoeneß calls on TV and vehemently defends the World Cup award to Qatar: It will make everything much better, critics are hypocritical. Human rights are definitely exploited in the process – but that's not exactly what Hoeneß is concerned about.
By Ralph Petroff
Uli Hoeneß causes a stir with his vehement defense of Qatar. And he also proves that the notorious attack department still works (how much that has to do with four winless league games in a row and Bayern's slipping to fifth place is an open question). His youngest victim: Ex-St. Pauli sports director Andreas Rettig.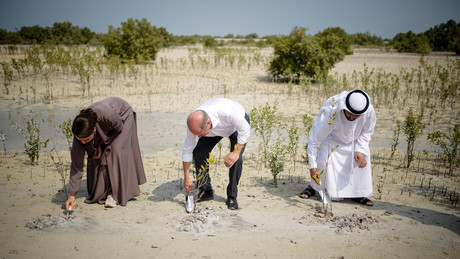 What happened? Rettig was in Sport1–double pass guest, a soccer-specific talk show. As a well-known critic of the World Cup being awarded to Qatar, he naturally expressed his views on this subject – which brought Hoeneß onto the scene: he called the show angrily and attacked Rettig. Hoeneß opened his tirade, which lasted several minutes, by asking Rettig "whether he doesn't shower so warmly in winter anymore, whether he uses the gas that we will soon be getting from Qatar – whether he's ever thought about it." And he continued: Sporting events and also Bavaria's involvement in the Gulf Emirate "will lead to the working conditions for the workers there getting better and not worse". People should finally accept that "and not constantly hit people". Last but not least, the longtime Bayern maker demanded:
"If we don't buy anything from anywhere in the near future and don't work with countries where human rights aren't treated the way they are here, then we can close our shop. And all the smartasses who argue so incredibly catastrophically like you should think about that. Thank you very much."
Bayern Munich's ex-manager described Qatar critic Rettig as the "king of hypocrites". (Rettig, incidentally, retaliated by calling Hoeneß an "ambassador of Qatar.")
Hoeneß is not so wrong on one point: the "human rights" of sport must have certain limits. If you only wanted to play in countries that have a spotlessly clean slate when it comes to human rights, it would be questionable whether there would be five countries. The organizers of the 2026 World Cup were certainly not among them – the USA (explanations are unnecessary, as an example only the human rights of black people pointed out), Canada (dealing with the aborigines and the trucker protests) and Mexico (the one for journalists most dangerous country in the world). On the other hand, it is also understandable that there are certain limits to human rights violations. Johan Cruijff justified his boycott of the 1978 World Cup in Argentina, then ruled by a military junta, with the words:
"How can you play football 1,000 meters from a torture chamber?"
Ultimately, it is always a question of weighing things up. But the question arises (rhetorically at least) whether Hoeneß's belittling comments, his talk in the spirit of "change through rapprochement" (or rather pandering) and his demand for a correct standard also apply to the "bad guys". Definitely not for Russia. Because there is no other way to explain why Hoeneß also refers to the gas that we will soon be getting from Qatar, but doesn't say a word about the fact that we could just as well continue to get it from Russia. As a point of comparison, however, another country that is much more similar to Qatar is taken here: Iran.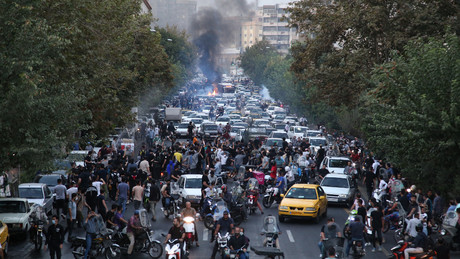 Both countries are religiously governed states in which the Sharia including corporal punishment and death penalty is applicable. Both states criminalize homosexuality and adultery. In both states is there Dress code and code of conduct for women. Both countries are ruled by a man whom the people did not elect (assuming that the ruler of Iran was the supreme leaders because unlike in the absolute monarchy of Qatar, there is an elected president). Both states is accused of terrorism to sponsor. It is not at all my concern here to examine the validity of the respective allegations; but based on the accusations one would have to assume that the same standard is being applied to both countries.
And yet: Is it really conceivable that Hoeneß would have defended a World Cup in Iran in the same way? That he demanded that you "shouldn't constantly hit people"? That he would have brought soothing objections, how much better the conditions there would be if the country was only properly promoted and involved? Or that Bayern Munich hold their annual winter training camp in Tehran? I don't think anyone seriously thinks that's possible. Because there's one major difference between Qatar and Iran: Tehran doesn't abound in fabulous wealth from oil and gas (and monetizing existing reserves is made more difficult by sanctions; but that's another story). And that is precisely the difference and one of the main reasons why some countries are "good" and others "evil" for the West: They must have resources or be geopolitically useful, but in any case be subservient. To paraphrase Franklin Roosevelt: Qatar may be a son of a bitch, but it's our son of a bitch.
As I said: Hoeneß's fundamental criticism of what I call human rights is not that wrong and he certainly has a point. However, it is becoming all too clear that he is not concerned with the fundamental issue at all, but only with defending Qatar. Lenin wrote over 100 years ago: If a Japanese is against the US annexation of the Philippines, it makes a big difference whether he is against annexations at all – or whether he only wants the Philippines for Japan. In the case of Hoeneß, the latter is obviously (in a figurative sense) the case. And that's why he can immediately climb the throne of the "king of hypocrites" himself.
more on the subject – Supplicant Scholz am Gulf – when moral claims become hypocrisy
RT DE strives for a broad range of opinions. Guest posts and opinion pieces do not have to reflect the editor's point of view.
RT DE strives for a broad range of opinions. Guest posts and opinion pieces do not have to reflect the editor's point of view.

By blocking RT, the EU aims to silence a critical, non-pro-Western source of information. And not only with regard to the Ukraine war. Access to our website has been made more difficult, several social media have blocked our accounts. It is now up to all of us whether journalism beyond mainstream narratives can continue to be pursued in Germany and the EU. If you like our articles, feel free to share them wherever you are active. It's possible because the EU hasn't banned our work or reading and sharing our articles. Note: However, with the amendment of the "Audiovisual Media Service Act" on April 13, Austria introduced a change in this regard, which may also affect private individuals. That's why we ask you not to share our posts on social media in Austria until the situation has been clarified.