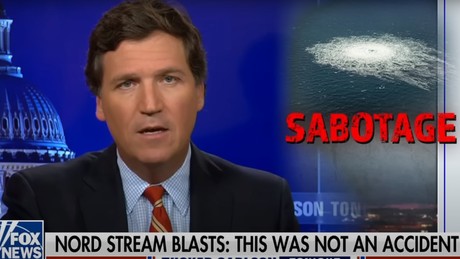 Tucker Carlson is an American television host and political commentator. His evening show "Tucker Carlson Tonight" at Fox News Channel reaches an audience of millions. In his program about the events of the Nord Stream pipelines, Carlson spoke at the beginning of "one of the greatest environmental disasters of our time". His September 27 broadcast is titled "This is an atrocity".
Tucker Carlson, after a brief introduction to recent events, poses the crucial question on the actual topic: "How did this happen?" The incident was not an "accident", referring to the underwater explosions confirmed by Swedish authorities. Carlson says verbatim in his unmistakable way:
"So there is only one explanation for what happened. It was an act of industrial terrorism, which was very clear to the Polish prime minister."
In the accompanying video clip, Polish Prime Minister Mateusz Morawiecki speaks of an "act of sabotage" that "probably marks the next level of escalation that we are dealing with in Ukraine." Carlson then comments pointedly that apparently "the main suspect is of course clear," alluding to official American perspectives. The deliberately provocative presentation is based on current reporting, for example Washington Post or statements by the Canadian ambassador in the USA, in each of which speculations about a Russian action were already expressed. Carlson summarizes:
"That would be the same man who caused inflation here in the US and stole Hillary Clinton's 2016 election. That would be Vladimir Putin."
Carlson urges viewers to "think for a moment" if that assessment would make sense. "Vladimir Putin may be angry," he commented, before asking:
"She [US-Medien und Politiker] tell us he's evil. But is he also stupid? He's probably not stupid. And yet, here's the odd thing: if you were Vladimir Putin, you'd have to be a suicidal idiot to blow up your own energy pipeline. That's the one thing you would never do."
With the gas pipelines, Russia has an elementary means of exerting political pressure – against Germany, among others – Carlson analyzed:
"Under the circumstances, it is impossible that they [Russland] blow up Nord Stream 1 or 2 yourself! Not now. Obviously not. It's even so obvious that even we [die USA]namely our infamous Secretary of State Tony Blinken seems to admit"that Nord Stream was sabotaged.
US Secretary of State Antony Blinken sharedjournalists on Tuesday that it was "in nobody's interest if attacks or acts of sabotage lead to gas leaks in the Nord Stream pipelines". Then Carlson brings US President Joe Biden into play as a potential buyer of this opaque event. He is reminiscent of what Biden said at a press conference in early February this year. When asked by a journalist how Biden's earlier insinuations to "put an end to Nord Stream 2" should be understood, the US President added to this request for a more detailed explanation:
"We will – I promise you – be able to do it."
Biden would probably have known very well why he used that phrase. Because he could have said, for example: "I will stop gas deliveries from Russia to Germany," comments Carlson, before formulating unequivocally:
"Is [Biden] said: There will be no more Nord Stream 2. We will put an end to this. We're going to turn it off. We're going to blow it up."
That response from Biden would not really have been "taken seriously" at the time. Carlson clarifies the contradiction that on the one hand Biden could be a potential cause of the explosions and thus also be responsible for this environmental disaster, but on the other hand he is also
"…the man who's spending billions to curb the effects of cow bloat because of the methane."
Should Biden be politically responsible, this would be "an unimaginably reckless act. And Carlson castigates that literally:
"That's what you would do if you wanted to start a nuclear war. It would be insane. And yet, looking back, it's obvious that they had thought about it."
In addition to the US President, Victoria Nuland, US politician in the State Department, also made similar statements at about the same time. For Carlson, Nuland has "always been a wartime cheerleader," as he proves to his viewers:
"She was involved in the invasion of Iraq, never apologized and just kept going. She helped plan the coup d'état that toppled the Ukrainian government a few years ago. She's capable of something like that."
Like the US President, Nuland had already hinted in January this year: "If Russia invades Ukraine one way or another, Nord Stream 2 will not continue":
Both statements – by Joe Biden and Victoria Nuland – are "retrospectively appalling" for Carlson. Although there is no clear evidence of US responsibility, one can already state:
"But what we can say is that close Biden White House allies believe they (the Americans) did it."
Carlson is alluding to Radosław "Radek" Sikorski, former Polish foreign minister and head of the EU-US delegation in the European Parliament. In his Twitter profile picture, Sikorski stands next to US President Biden. And he tweeted twice: "It's a small thing, but it makes you happy" and "Thank you, USA". In conclusion, Carlson does not want to "make any accusations" with his contribution, but he also points out to the viewers that the "Baltic Pipe" inaugurated became. In the future, this Baltic Pipe will transport natural gas from Denmark to Poland through the Baltic Sea – across the Nord Stream from West to East.
Carlson concludes his assessment by saying that whoever is responsible for this Nord Stream event has "caused one of the greatest catastrophes of our time and its environmental impact". He sums up:
"If they did that, it would be one of the craziest and most destructive things an American government has ever done."
More on the subject – The Destruction of Nord Stream: A Declaration of War on Germany?