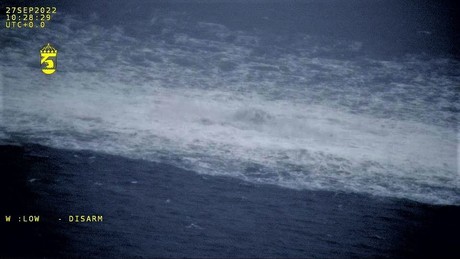 Von T. J. Wellbrock
The idea with the "hardest consequences" and the "sabotage action" came from Ursula von der Leyen herself. What is already set in stone is that the blue and yellow fashion fairy in Brussels does not assume that the Americans will be involved. If she even cautiously considered this idea, she would certainly not be talking about such consistent measures, whatever she might mean by that. Because one of the Leyen does not threaten the USA!
When possible perpetrators speculate about possible perpetrators
The German press forest is creative, that is well known. Gently but forcefully, he concocts fantasies that blame Russia alone for the attack on Nord Stream. Russia wants to drive up the price of gas, Russia wants to destroy supplies in Europe, Russia wants to (yet) trigger a climate catastrophe.
The German media, on the other hand, benevolently ignorant with the "Thank you, USA!" by former Polish Defense Minister Radosław Sikorski. The man must have said thank you for something other than the act of terrorism. This little dialogue that took place in February 2022 between a journalist from Reuters and US President Biden, who was sleepy as usual but nevertheless smiled in a friendly way, also seems to be completely unsuspicious:
Biden: "There will be no more North Stream 2. We will put an end to it."

Reuters: "But how exactly do you want to do that since the control of this project lies in Germany?"

Biden: "I promise you, we'll make it."
Now, the US isn't exactly known for keeping all promises, but in this case you might want to ask or at least give some thought. Or is all of this already being checked by Ursula von der Leyen in order to then have the "hardest consequences" follow? You don't risk much in the case of a bet if you categorically rule out this possibility.
Also worth considering is the fact that according to the previous contracts, Russia gets its money in any case, whether gas is delivered or not. However, if the technical possibility of such a delivery no longer exists, then the claim to these payments is finally gone.
Those three little details would put any detective on the U.S., or the West in general, on the suspicion. So the USA has a motive, also the possibilities, i.e. the technical means, and has even already announced that Nord Stream 2 will not go into operation.
Why still demonstrate?
The leaks lead to another consequence. It's true that those voices who have repeatedly spoken out in favor of negotiations on gas supplies with Russia have had a very difficult time up to now, but they have existed and still exist. A few die-hards never tired of pointing out that without Russian gas, not much will soon be able to go on as before in this country.
And now? This argument, at least, has kind of vanished into thin air. So if a hot autumn is still ahead of us, then he will have to come up with other demands than opening Nord Stream 2 (and using Nord Stream 1 at the same time). Stupid, dear demonstrators!
Since the completely absurd rumor is persistently being spread that Russia is responsible for the sabotage action, arguing becomes even more difficult. Because whether Russia committed the crime or not is soon irrelevant after a sufficient number of prayer wheel-like repetitions in the media that it was so. When the word "Bucha" is mentioned, 9 out of 10 Germans probably associate it with Russia as the alleged perpetrator.
So what else can you ask for now? Fix Nord Stream 2? Negotiations and peace with Russia? Relief packages until the doctor comes? And that will come, be it with the qualifications of a psychotherapist who tries to heal the traumata of the population. It's tough.
And while our "quality media" create one conspiracy theory after the other, the pragmatist asks himself: Cui bono? But that brings us to the next problem, because the question of who benefits from something has long been permanently banned to the "Silent Staircase".
Media War
Without beating around the bush: the media in Germany are waging a war against media consumers. Because not only do they not fulfill their task, but they have apparently dedicated themselves to a completely new mission. They make everything disappear that contradicts the prevailing narrative. In doing so, they say goodbye to professionalism, objectivity and – what weighs the hardest – their claim to inform and enlighten.
The indications already mentioned, which should at least lead to the suspicion of US authorship of the sabotage action, are consequently ignored and turned into the opposite. This is an informative act of violence against the readers, listeners and viewers. Because they are denied what they should know. And this is done consciously and intentionally. It is this mixture of concealment, reinterpretation and construction that reduces the credibility and independence of most media outlets to a collective of propagandists who consider their job merely as spokesman for a few power-mad politicians.
Incidentally, this is not about speculating or condemning one side or the other. It's about the much-needed balance that one can and must expect from the media. A media landscape that only shows deciduous trees and treats all conifers as non-existent has not fulfilled its informational mandate and thus forfeited its claim to seriousness.
hot autumn?
Back to the starting point and thus to my very personal speculation: The act of sabotage against Nord Stream 2 primarily benefits the USA. They will now be able to sell their dirty gas even more easily to Europe and Germany in particular. If there was at least the theoretical possibility of reaching a certain agreement with Russia, that is now over. In view of this fact, it would be essential to explore the background to these acts(s) calmly and with the necessary distance from all possible participants. As described above, most of the media in Germany have no interest in this (gratifying but little publicity-effective exceptions confirm the rule). However, the ruling politicians act with the same ignorance, and one wonders who is driving whom here: these media the politicians or these politicians the media?
The fact is that any possible resistance to the suicidal economic policy of this federal government was so defamed weeks ago that even the violent use against citizens was prepared and justified in the media and rhetorically. The fact that Nord Stream is now (perhaps permanently) no longer functional allows the politicians to make a perfidious argument: "It doesn't make any sense to take to the streets anymore – we don't get any more gas from Russia anyway. So stay at home and hold on stay away from the extreme right."
The economic situation, which is already disastrous anyway, will continue to deteriorate, relief packages and comparable measures will not even begin to cushion the damage. At the same time, Habeck and company can rest on the argument that they can no longer change anything, even if they wanted to.
The economic destruction of the country – initiated by those who are now boastfully announcing relief for the self-imposed politics – is progressing inexorably. So, with their eyes wide open and fully conscious, people are led to the abyss where they can look before the final push comes from behind.
One can only call out to the population: Now more than ever! Take to the streets, resist, fight against the collapse of Germany as a business location. There are still more than enough reasons for this.
Tom J. Wellbrock is an author and copywriter. He runs the blognew territory rebels.
More on the subject – Recognize Your Enemy: How a German Government Should Respond to the Nord Stream Attacks