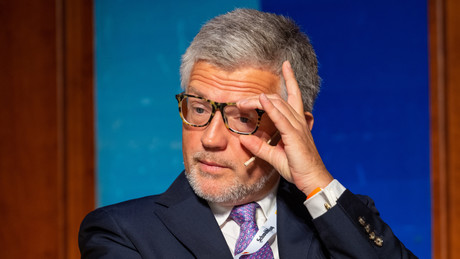 Even in the final stretch of his diplomatic career, the current Ukrainian ambassador, Andrei Melnyk, spoke up in his unique way. After the verbal attack on his own party leader, Saxony's Prime Minister Michael Kretschmer, by the former Federal Government Commissioner for Eastern Europe and Saxon CDU top candidate in the federal election campaign, Marco Wanderwitz, Melnyk tweeted on Wednesday:
"Finally, @MPKretschmer gets a Putin fan & Russia worshiper in the face from within the @cdusachsen ranks"
Melnyk also addressed Wanderwitz directly, wrote: "Thank you dear Marco Wanderwitz for your clear words" and invited the Chemnitz CDU member of the Bundestag to Kyiv.
The occasion is an interview in the Leipziger Volkszeitungsharp in the Wanderwitz Kretschmer because of his supposedly Russia-friendly course criticized would have.
According to Wanderwitz, Kretschmer is a "wrong-way driver who believes that not he but everyone else is driving in the wrong direction." At the same time he emphasized:
"Without Michael Kretschmer's position, we wouldn't have a 'Russia problem' in the CDU. Then we couldn't be accused of having a dedicated Russia understander in our ranks."
Already on Wednesday morning, Melnyk showed no respect for ex-Chancellor Angela Merkel. Referring to an article in the Süddeutsche Zeitung he tweeted:
"Hard to believe: the ex-chancellor, who made Moscow's aggression against the Ukrainians possible with her years of Putin-friendly coziness, shamelessly philosophizes about 'how something like relations with us and Russia can be developed again'"
Hard to believe: the ex-chancellor, who made Moscow's aggression against the Ukrainians possible with her years of Putin-friendly coziness, shamelessly philosophizes about "how something like relations with us and Russia can be developed again"🤦‍♂️https://t.co/N6OQF09jkD pic.twitter.com/DVv2C30WcZ

— Andrij Melnyk (@MelnykAndrij) September 28, 2022
more on the subject – Kretschmer: "Russia will still be there in 100 years" – warning of an energy tsunami