Sep 27 2022 07:10 a.m

This week, too, numerous people are taking to the streets to demonstrate against the anti-Russian sanctions and the Corona policy of the traffic light coalition in Berlin. The focus was again East Germany.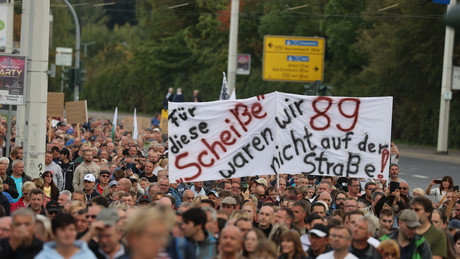 On Monday, tens of thousands of people again took to the streets in Germany against the high energy prices. They called for an end to sanctions against Russia, the reopening of the Nord Stream 2 gas pipeline and no further corona measures.
In Chemnitz, Saxony, around 5,000 citizens took to the streets again, forming a long procession through the city centre.
In Dresden, Görlitz, Kamenz and Bautzen, observers counted almost a thousand demonstrators each. On Leipzig's Augustusplatz there were about twice as many, similar to Magdeburg.
As early as Sunday, 5,000 to 8,000 people in Plauen in Vogtland were on the streets and expressed their displeasure.
more on the subject – "Dethrone this government" – Demonstrators demand opening of Nord Stream 2
By blocking RT, the EU aims to silence a critical, non-pro-Western source of information. And not only with regard to the Ukraine war. Access to our website has been made more difficult, several social media have blocked our accounts. It is now up to all of us whether journalism beyond mainstream narratives can continue to be pursued in Germany and the EU. If you like our articles, feel free to share them wherever you are active. It's possible because the EU hasn't banned our work or reading and sharing our articles. Note: However, with the amendment of the "Audiovisual Media Service Act" on April 13, Austria introduced a change in this regard, which may also affect private individuals. That's why we ask you not to share our posts on social media in Austria until the situation has been clarified.