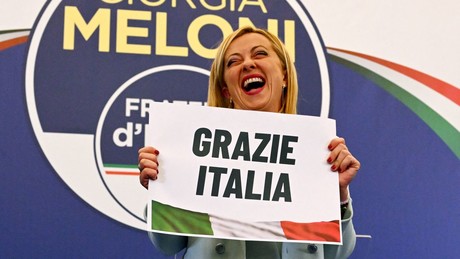 According to available projections, a party alliance around the Fratelli d'Italia party won the election. The party alliance includes the Lega around Matteo Salvini and the Forza Italia around former Prime Minister Silvio Berlusconi. Giorgia Meloni, as leader of the strongest party, has a good chance of becoming Italy's first female prime minister.
On Monday night, Meloni explained to her supporters:
"This is a night of pride, redemption, tears, hugs, dreams, memories."
The 45-year-old went on to say that when this night is over, it must be clear that this is not the goal, but the beginning.
Voter turnout was historically low. By 7 p.m. on election night, only 51 percent of a total of 51 million eligible voters had cast their votes. When the polling stations closed, turnout was 63.8 percent. It was lower than in any previous parliamentary election.
The clear loser is the Democratic Party. She acknowledges the result of the election, but at the same time Deputy President Debora Serracchiani refused to congratulate the winner on her election victory.
Congratulations, on the other hand, came from the right-wing conservative parties in Europe. Beatrix von Storch (AfD) tweeted late Sunday evening:
"We celebrate with Italy!"
Congratulations also came from Polish Prime Minister Mateusz Morawiecki and French MEP Jordan Bardella from Marine Le Pen's Rassemblement National (RN). He wrote on Twitter that the Italians had given "a lesson in humility" to the President of the European Commission, Ursula von der Leyen.
One can therefore be curious about reactions from Brussels. EU Commission President Ursula von der Leyen said last week that the EU Commission had "tools" ready if a future centre-right government did not want to comply with the EU treaties. This has been interpreted by various quarters as direct electoral interference.
The Five Star Movement is now the third strongest force in Italy. Contrary to all expectations, she won 16 percent of the votes. She ended up far ahead of the Berlusconi party Forza Italia, which according to projections only garnered 9 percent of the vote.
more on the subject – The election in Italy: With new anti-fraud coupons and a referendum carried out at the same time