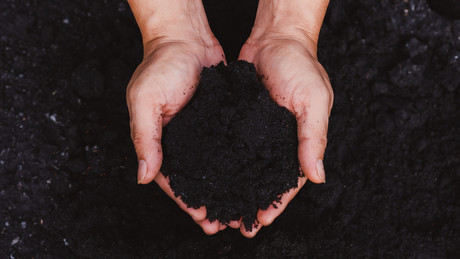 The US state of California wants to allow its citizens to compost their bodies after death. The new law, signed into law by California Gov. Gavin Newsom on Sunday, creates a state regulatory process for "natural organic reduction" (NOR) in California. Composting a corpse, already legalized in Washington, Colorado and Oregon, involves placing it in a reusable steel container, surrounding it with wood chips and aerating it to allow microbes and bacteria to grow.
After about a month, the remains will naturally decompose. What remains is nutrient-rich soil, which can then be returned to the families or donated to operators of nature conservation areas. According to Recompose, a funeral home that specializes in human composting, each body creates about a cubic yard of compost. The soil "returns the nutrients from our bodies to nature" and "restores forests, sequesters carbon and nurtures new life," the company explains on its website. "Natural organic reduction is safe and sustainable, and allows our bodies to return to nature after we die," Recompose founder Katrina Spade told the newspaper The Sacramento Bee.
Since the burial process burns no fossil fuels and emits no carbon monoxide, it is also considered "green". Traditional cremation, which accounts for more than half of all burials in the United States, is an energy-intensive process. According to data from National Geographic around 360,000 tons of carbon dioxide are emitted every year – in the USA alone. Burials can also pollute the environment, as the chemicals used to embalm a corpse can leach into the ground.
According to Democratic Rep. Cristina Garcia, who introduced the bill earlier, natural organic reduction is "an alternative method of disposal that does not result in atmospheric emissions or other pollution." "Wildfires, extreme drought and record heatwaves are reminding us that climate change is real and we must do everything we can to reduce methane and CO2 emissions," she wrote on Twitter Monday. Garcia told US media that when she dies she wants to compost herself:
"I look forward to continuing my legacy in the fight for clean air by using my reduced leftovers to plant a tree."
AB 351 was signed into law! It legalizes "human composting" as an after-death option. Wildfires, extreme drought, record heat waves reminds us that climate change is real and we must do everything we can to reduce methane & CO2 emissions. @Earth_Funeral https://t.co/iKJ9QK0qDU

— Cristina Garcia (@AsmGarcia) September 19, 2022
Still, not everyone is thrilled with the idea of ​​turning their loved ones into dirt. For example, the Catholic Conference of California opposed the bill. In a letter addressed to Gavin Newsom, church officials warned of a report by the Catholic News Agency states that human composting "reduces the human body to a simple disposable commodity".
"NOR uses essentially the same process as a home composting system," said California Catholic Conference executive director Kathleen Domingo, noting that the NOR process was originally developed for livestock, not humans. "These disposal methods were used to reduce the possibility of disease transmission through the dead carcass," Domingo said. "Using the same methods for 'transmuting' human remains can lead to an unfortunate spiritual, emotional, and psychological distancing from the deceased."
In New York, where a human composting bill was also being introduced, the state's Catholic Conference similarly opposed the process, writing that it was not possible "to protect and preserve basic human dignity and respect." . Proponents, however, tout human composting as a greener alternative to traditional burial methods.
Still, the idea of ​​composting human remains has raised some ethical questions. For example, Colorado law forbids that one person's soil from the burial process should not be mixed with another's. Nor may it be sold or used to grow food.
more on the subject – "Has changed drastically" – Music legend Ozzy Osbourne leaves the USA