Sep 26 2022 4:31 p.m

Almost all German mainstream media agree that the referendums carried out by Russia in the Donbass are "sham referendums". The NDR even explained to me why this is so. Meanwhile, an election observer was probably unceremoniously fired from his job.
Von T. J. Wellbrock
How do you recognize a sham referendum? The best way is to see for yourself on site. Paper is known to be patient, so sending election observers to the affected area makes sense and can be described as diligence. Russia had also explicitly invited them to do so. However, if the diligence is not directed towards the matter itself, but towards one's own narrative, the priorities shift.
An email to the NDR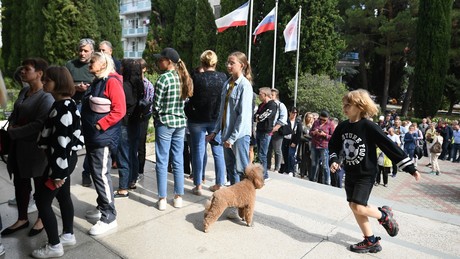 I recently heard on the car radio ndr.info. To my surprise, the moderator said that there was no way to send foreign observers to the referenda held in Ukraine. Since I myself was invited to travel to the Donbass as an election observer, but had to decline this invitation for professional reasons, I wrote an email to the editors of ndr.info, in which I pointed out this blatant hoax and demanded a correction. I got an answer too. A NDR editor wrote me:
"Dear Mr. Wellbrock,

Thank you for your mail. You are right, there is probably the possibility of sending a reporter to the Russian occupied territories in Ukraine. But by doing so we would recognize the legitimacy of the referendums. And that can't be in your interest either."
That is interesting. The editor admitted that it might be possible to send reporters to Ukraine who NDR but have no interest in doing so, since such a step would be tantamount to recognizing the "sham referendums".
But what do I do as a listener to the station when I really like it idiosyncratic attitude of the NDR know nothing? I'm going – because I'm concerned about the seriousness of the NDR believe – assuming that election observers have no way of observing the referendums.
Accordingly, my answer fell to the NDR out:
"Dear Mr. Hagen, the point is not

what you or I want.
It is about a statement – ​​that there is no way of observing the referendums – that is factually wrong.

Irrespective of how the referenda are evaluated, objective reporting means saying what corresponds to the facts.

If you want to make your reporting judgmental, you would have to point out that visiting the referendums is not in your interest.

So my concern remains.

Mfg


T. J. Wellbrock"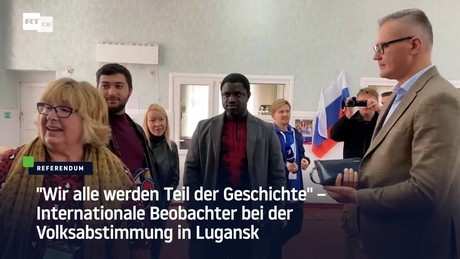 I did not receive any further reply and therefore make this case, as in my first mail to the NDR announced, public.
So far I have assumed that the job of election observers is to observe elections or similar events. That seems to me to be quite conclusive, because if you want to get an idea of ​​a process, the presence of the relevant people seems to be a very effective means.
To put it less cynically: For the NDR there is obviously no need for this, because the broadcaster has already decided how the referenda will take place. And all without reporters who could have seen everything on site.
Referendums in the Ukraine: All "Schaller" and smoke
The managing director of the North Hessian utility Energie Waldeck-Frankenberg (EWF), Stefan Schaller, probably belongs to those who would like to get an impression for themselves. So he traveled to Ukraine as an election observer. Meanwhile, something unbelievable happened at home. District administrator Jürgen van der Horst not only announced the following:
"The forced referendums by Russia in Ukraine are hypocritical and contrary to international law and a pretext to appropriate the Russian-occupied territories in Ukraine. We strongly condemn this illegal annexation."
He also announced that Schaller should be "released from his duties". The final decision is due this Monday, September 26, 2022, and it is hoped for the election observer that publishing his case can prevent the worst.
Schaller's explanation, which justified his trip like this, must be rated as simply outrageous, outrageous, unabashed and without any empathy:
"I wanted to get an idea of ​​the situation on site. Also because I believe that objective information can never be wrong."
How can he! The times of objective images are over, and permanently. The (still!) outgoing Ukrainian ambassador to Germany, Andrei Melnyk, could hardly hide his anger. He reported last Saturday with the following words:
"I appeal to the district administrator of Waldeck-Frankenberg as chairman of the EWF: Mr. van der Horst, throw out Stefan Schaller, who is helping the Russian war of aggression, immediately."
Fake reports in the German media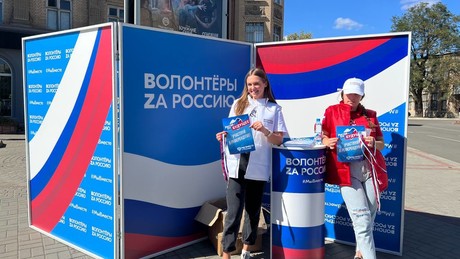 We learn: The classification of processes in which one is not involved and to which one does not send any staff to carry out such a classification is made from the desk. It's enough for someone somewhere in Ukraine to say it's all nonsense, that these referendums are just illusions.
The mainstream politely thanks for such submissions and writes indignantly that Russian soldiers are going door-to-door to the people of Donbass – by the way, still the people who have been killed by orders from Kyiv for more than eight years and bombed in fear and Being frightened – forcing people to vote at gunpoint in the Russian sense.
In the end, the balance of German media work is once again disastrous. It is written like crazy, you outbid each other. However, facts are irrelevant.
Thanks to Mr. Hagen from NDR we finally know that now.
more on the subject – Live ticker Ukraine war: 100 mercenaries of the Ukrainian Foreign Legion destroyed in one day
RT DE strives for a broad range of opinions. Guest posts and opinion pieces do not have to reflect the editor's point of view.

By blocking RT, the EU aims to silence a critical, non-pro-Western source of information. And not only with regard to the Ukraine war. Access to our website has been made more difficult, several social media have blocked our accounts. It is now up to all of us whether journalism beyond mainstream narratives can continue to be pursued in Germany and the EU. If you like our articles, feel free to share them wherever you are active. It's possible because the EU hasn't banned our work or reading and sharing our articles. Note: However, with the amendment of the "Audiovisual Media Service Act" on April 13, Austria introduced a change in this regard, which may also affect private individuals. That's why we ask you not to share our posts on social media in Austria until the situation has been clarified.