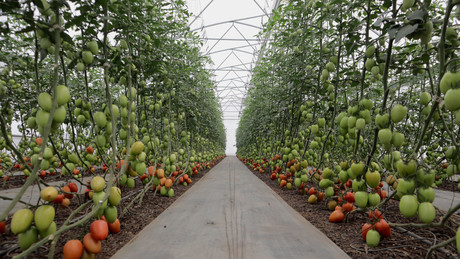 As Reuters reported this week, vegetable growers across northern and western Europe are considering shutting down operations due to the ongoing energy crisis. This would further endanger the food supply.
According to the report, skyrocketing electricity and gas prices are the biggest costs faced by vegetable growers who cultivate greenhouse crops. Two French farmers who recently renewed their electricity contracts for 2023 told the news agency they had been quoted prices more than 10 times what they were in 2021.
Benjamin Sinot-De Vos, who grows cucumbers, tomatoes and strawberries south of Paris, said:
"In the coming weeks I will plan the season but I don't know what to do. If it stays like this there is no point in continuing in the new year. It's not sustainable."
France is expecting a historically low grain harvest this year anyway Bloomberg reports. The last time there was a comparable low-yield harvest was 30 years ago. It is expected that around 25 million tonnes of grain will be harvested less than in 2021.
Johannes Gross, deputy sales manager at Germany's Reichenau-Gemüse cooperative, explained Reuters:
"We have to expect an increase in production costs of around 30 percent. Some colleagues are considering leaving their greenhouses empty to keep costs as low as possible. Nobody knows what will happen next year."
The rising costs of fertilizers, packaging and transportation also add to the problems. Even in sun-drenched countries like Spain, fruit and vegetable growers are grappling with a 25 percent rise in fertilizer costs.
Meanwhile, there are increasing indications that the rate of price increases for food is almost twice as high in Germany compared to other EU countries. According to studies by comparison portals, the rate of price increases for food and non-alcoholic beverages in this country is now at 15.5 percent compared to the previous year – while in France, for example, it is 8 percent. Only in a few Eastern European countries have prices risen even more. The reason given is the "low starting level" of food prices in Germany.
more on the subject – Fire letter from the economy: Germany is threatened with considerable problems with the food supply