Sep 24 2022 12:31 p.m

Isolation or "isolation"? The number of meetings of the Russian delegation at the UN General Assembly in New York is enormous. That rules out any isolation of Russia on the international stage, according to Russian Foreign Ministry spokeswoman Maria Zakharova.
Russian Foreign Ministry spokeswoman Maria Zakharova poked fun at attempts by Western countries to stage a "isolation" of Russia at the General Assembly in New York. On her Telegram channel, she posted pictures of a cordial meeting between Russian Foreign Minister Sergei Lavrov and his UAE counterpart and commented:
"Today the isolation was particularly painful. We waited for her with a dozen of our friends and colleagues, but she still didn't come."
In the program "Evening with Vladimir Solovyov" of the TV channel Russia 1 Zakharova has already commented on attempts to "isolate" Russia in the UN General Assembly. She said that Lavrov's schedule in New York shows the complete failure of such attempts.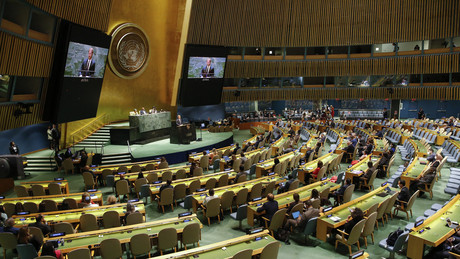 "Isolation means a running marathon of appointments, we already know that. We just don't have time to change the flags on the table of our guests, partners and friends who come to negotiations," she noted, explaining that the negotiations in different formats, both bilateral and multilateral. "This whole isolation thing, the ban on taking pictures with Lavrov, has long failed and the General Assembly is further proof of that," Zakharova said.
The Polish daily newspaper Republic had already pointed out in mid-September that there was no question of Russia being isolated internationally – even if the western countries would like that. in one Comment on the summit of the Shanghai Cooperation Organization, the newspaper's journalists stated:
"There can be no talk of extensive isolation of Russia, because despite the Ukraine conflict, many experienced heads of state and government in the world are in contact with Russia."
More on the subject – The failed isolation of Russia – Lavrov dismisses Blinken
By blocking RT, the EU aims to silence a critical, non-pro-Western source of information. And not only with regard to the Ukraine war. Access to our website has been made more difficult, several social media have blocked our accounts. It is now up to all of us whether journalism beyond mainstream narratives can continue to be pursued in Germany and the EU. If you like our articles, feel free to share them wherever you are active. It's possible because the EU hasn't banned our work or reading and sharing our articles. Note: However, with the amendment of the "Audiovisual Media Service Act" on April 13, Austria introduced a change in this regard, which may also affect private individuals. That's why we ask you not to share our posts on social media in Austria until the situation has been clarified.