Sep 23 2022 10:26 a.m

For the first time since the end of the Cold War, a conflict with a nuclear-armed opponent is no longer just theoretical, said Admiral Charles Richard. This has profound implications, Richard said.
Navy Admiral Charles Richard, commander of the US Strategic Command, said on Wednesday that for the first time since the end of the Cold War, the United States was faced with the possibility of a nuclear war with an equal opponent. At an Air Force-sponsored conference in Maryland, Richard reminded those in attendance that the US must prepare for rapid escalation against potential adversaries.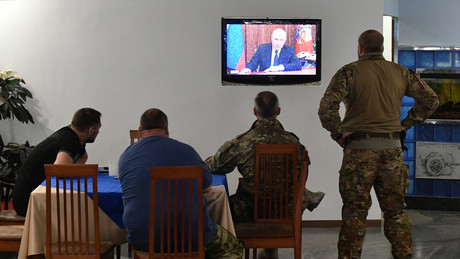 "All of us in this room are again contemplating armed conflict with a nuclear-capable opponent," he said, summing up his speech. "We haven't had to do that for over 30 years."
The admiral added that the impact is profound. "They are profound for the defense of our country. They are profound for strategic deterrence as well as for the achievement of our national goals. And this is all no longer theoretical."
"Russia and China can escalate to any level of violence around the world in any area, with any instrument of power, they choose," he continued. "We haven't been confronted with such opponents for a long time."
In Moscow's eyes, the US is currently engaged in a proxy conflict with Russia in Ukraine and has steadily escalated its involvement in arms sales, intelligence sharing and financial support for Kyiv since Russian troops invaded Ukraine.
Russia's current nuclear doctrine permits the use of nuclear weapons in the event of a nuclear strike on its territory, on its infrastructure, or when the very existence of the Russian state is threatened by either nuclear or conventional weapons. US doctrine permits a nuclear first strike in "extreme circumstances and to defend the vital interests of the United States or its allies and partners."
Russian President Vladimir Putin reiterated this position on Wednesday, stating that the Kremlin will "without a doubt use all available means" to protect Russia and its people should Russian territory be threatened. Russian Foreign Minister Sergei Lavrov also warned that the US is on the verge of becoming a directly involved party in the Ukraine conflict, putting Washington at risk of a confrontation between two nuclear powers.
Similar warnings have also come from the US, particularly from former President Donald Trump. He said Wednesday that the Ukraine conflict, which he said "should never have happened," could lead to World War III.
more on the subject – Uli Gellermann: Betrayal of the nation – The cold war winter of 2022
By blocking RT, the EU aims to silence a critical, non-pro-Western source of information. And not only with regard to the Ukraine war. Access to our website has been made more difficult, several social media have blocked our accounts. It is now up to all of us whether journalism beyond mainstream narratives can continue to be pursued in Germany and the EU. If you like our articles, feel free to share them wherever you are active. It's possible because the EU hasn't banned our work or reading and sharing our articles. Note: However, with the amendment of the "Audiovisual Media Service Act" on April 13, Austria introduced a change in this regard, which may also affect private individuals. That's why we ask you not to share our posts on social media in Austria until the situation has been clarified.