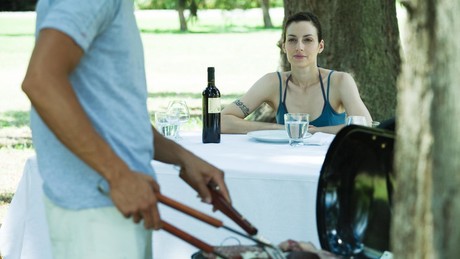 According to PETA, the world's largest animal rights organization with more than five million supporters, meat-eating men apparently pose a massive threat to the climate. The animal welfare organization is now asking men to choose between meat and sex.
PETA bases its claim on a study published in November 2021 in the online scientific journal Plos Onehad appeared. According to the study, men would contribute significantly more to the climate catastrophe through their meat consumption than women. According to this, they should emit over 40 percent more greenhouse gases than the female sex with their eating habits.
Daniel Cox (46), head of campaigns at PETA Germany, told Wednesday Bild:
"Men are much worse for the environment than women because they eat too much meat."
And he added:
"Women should go on sex strike now – to save the world!"
In addition, every child not born saves around 58.6 tons of CO2 equivalents per year. However, the demands of the animal protection organization met with sharp criticism, especially from the Union parties. The CDU politician Dorothee Bär said opposite Bild:
"For whom, if not our children, are we saving the climate? Charging children with harmful CO2 is repulsive. Especially since they are the climate saviors of the future!"
The CSU member of the Bundestag and master butcher Alois Rainer described PETA's statements as "complete nonsense". The managing director of the CSU regional group, Stefan Müller, also criticized the animal protection organization's approach. The demands are embarrassing. The organization no longer even stops at the bedroom in the fight for attention.
At a request from Berliner Zeitung Cox defended the organization's push. A conscious decision was made to "exaggerate the core of the study." PETA wants to draw attention to the fact that current eating habits are "massively fueling the climate catastrophe". He added to the newspaper:
"The grilling, meat-eating men are destroying the livelihoods of their own or even unborn children."
Addressing the CSU, Cox explained that the CSU in particular had to "keep a low profile here" because "its politics brought us into this situation in the first place". Politicians must create the framework conditions for a change in nutrition. Among other things, by abolishing VAT on plant products, fruit and vegetables and introducing a reduction in animal populations.
more on the subject – Özdemir: "Hunger is not an argument for cutting back on biodiversity and climate protection"