Sep 22 2022 4:48 p.m

Hungarian Prime Minister Viktor Orbán is demanding that the European Union should lift all sanctions against Russia by the end of the year at the latest. In the meantime, the EU foreign ministers have agreed on an eighth package of sanctions.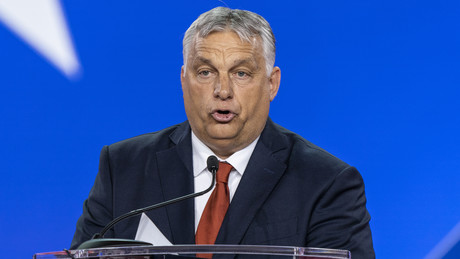 Hungarian Prime Minister Viktor Orbán has called on individual member states of the European Union to lift the sanctions imposed on Russia by the end of the year at the latest. The punitive measures against Moscow were "forced on the Europeans by the Brussels bureaucrats," he said on Wednesday evening at a group meeting of the ruling party Fidesz in the Balatonalmádi spa resort:
"The sanctions cause economic problems, the energy crisis and inflation."
The European Union, on the other hand, wants to prepare an eighth package of sanctions against Russia. This was agreed by the foreign ministers of the 27 EU countries on the fringes of the UN General Assembly in New York. Concrete decisions should therefore be made at a formal meeting in mid-October. "We will examine new restrictive measures, we will pass them," EU foreign policy chief Josep Borrell told members of the press, adding that the new sanctions could relate to individuals as well as specific sectors.
Orbán, who maintains a good relationship with Russian President Vladimir Putin, has supported the EU sanctions so far, but has enforced exception rules for his country. With his demand for an end to all sanctions against Russia, however, he could now thwart Brussels' plans. Sanctions decisions by the EU must be decided unanimously by all member states. Hungary has been a member of the EU since 2004.
More on the subject – Hungary: Consequences of Russia sanctions clearly visible across Europe
By blocking RT, the EU aims to silence a critical, non-pro-Western source of information. And not only with regard to the Ukraine war. Access to our website has been made more difficult, several social media have blocked our accounts. It is now up to all of us whether journalism beyond mainstream narratives can continue to be pursued in Germany and the EU. If you like our articles, feel free to share them wherever you are active. It's possible because the EU hasn't banned our work or reading and sharing our articles. Note: However, with the amendment of the "Audiovisual Media Service Act" on April 13, Austria introduced a change in this regard, which may also affect private individuals. That's why we ask you not to share our posts on social media in Austria until the situation has been clarified.