Sep 21 2022 8:37 p.m

British mercenaries sentenced to death in Donbass and some citizens of other Western countries were flown to Saudi Arabia on Wednesday and are now free. The background to the action is still unclear.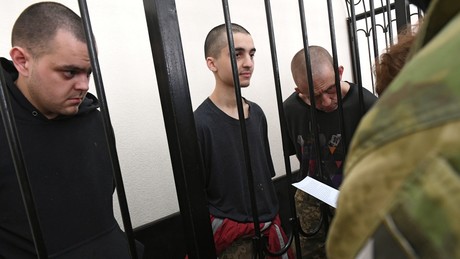 The British news channel Sky News reported in the evening citing Prime Minister Liz Truss that the five British mercenaries imprisoned in Donbass, some of whom have already been sentenced to death, are free again.
From the Russian side confirmed this the military expert Boris Roschin. He published photos of British citizens landing in Saudi Arabia. According to Roschin, it is an exchange mediated by Saudi Arabia. Further information about the possible consideration of the exchange was not initially available.
Britons Aiden Aslin and Shaun Pinner, and a Moroccan national also seen in footage this evening after landing in Riyadh, were sentenced to death by the Supreme Court of the Donetsk People's Republic (DPR) on June 9. The court had found the three mercenaries guilty of taking part in "Ukraine's armed aggression against the Donetsk People's Republic". The mercenaries surrendered to DPR forces in the city of Mariupol in mid-April, after weeks of fierce fighting between Ukrainian fighters and allied Russian and DPR troops.
Sky News also reported that the British Prime Minister thanked the Ukrainian President Zelenskiy. So far, however, it is unclear what role Zelensky will play in the release of the British nationals.
more on the subject – 'I fought for the wrong thing' – Briton sentenced to death asks for forgiveness
By blocking RT, the EU aims to silence a critical, non-pro-Western source of information. And not only with regard to the Ukraine war. Access to our website has been made more difficult, several social media have blocked our accounts. It is now up to all of us whether journalism beyond mainstream narratives can continue to be pursued in Germany and the EU. If you like our articles, feel free to share them wherever you are active. It's possible because the EU hasn't banned our work or reading and sharing our articles. Note: However, with the amendment of the "Audiovisual Media Service Act" on April 13, Austria introduced a change in this regard, which may also affect private individuals. That's why we ask you not to share our posts on social media in Austria until the situation has been clarified.