Sep 21 2022 11:42 a.m

French President Macron and his Iranian counterpart Raisi met face-to-face in New York amid stalled nuclear talks with Iran. Meanwhile, violent protests against the death of a 22-year-old woman are increasing in Iran.
French President Emmanuel Macron held personal talks with his Iranian counterpart Ebrahim Raisi in New York on Tuesday. The meeting was Raisi's first meeting with a top Western leader since his election last year. The meeting came amid a stalemate in the revival of the 2015 nuclear talks. Meanwhile, protests are mounting in Iran over the death of a 22-year-old woman who, according to Western media, died in the custody of the so-called "moral police." The Iranian media reported that Mahsa Amini died of heart failure without any outside influence.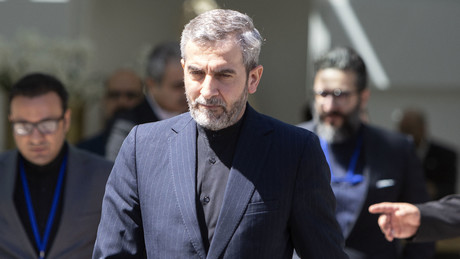 The Iranian President has reiterated to his French counterpart that the International Atomic Energy Agency's (IAEA) investigation into unexplained traces of uranium at several Iranian nuclear facilities must be "completed" before a new agreement can be reached.
The IAEA demanded an explanation from Tehran about the discovery of uranium particles in several places that Iran had not declared as nuclear plants. The information about this apparently comes from the Israeli secret service, which in 2018 stole thousands of documents from a secret nuclear archive in Tehran in an operation.
"We believe that an agreement is not possible unless the investigations (for traces of uranium) in Iran are declared to be over," Raisi told Macron. The Iranian President added that Europe must "demonstrate by action that its policies are independent of those of the US and do not follow US wishes and policies".
Macron has reportedly made proposals to move nuclear talks forward, which have stalled again after Iran responded in writing to an EU draft on the nuclear dispute earlier this month, demanding changes to the draft.
France said earlier Monday that there was no better offer for Iran to revive a nuclear deal with world powers and that it was up to Tehran to make a decision now. EU foreign policy chief Josep Borrell, who is coordinating the talks, said he saw little chance of progress at the United Nations General Assembly.
He still supports a "good and fair agreement", but it must be ensured that it lasts, Raisi told the US broadcaster CBS on Sunday shortly before his departure for the general debate at the UN General Assembly in New York. After past experiences, his country no longer trusts the United States, Raisi explained. That's why there will be no trust "without guarantees".
more on the subject – Israel launches diplomatic initiative to prevent Iran nuclear deal
By blocking RT, the EU aims to silence a critical, non-pro-Western source of information. And not only with regard to the Ukraine war. Access to our website has been made more difficult, several social media have blocked our accounts. It is now up to all of us whether journalism beyond mainstream narratives can continue to be pursued in Germany and the EU. If you like our articles, feel free to share them wherever you are active. It's possible because the EU hasn't banned our work or reading and sharing our articles. Note: However, with the amendment of the "Audiovisual Media Service Act" on April 13, Austria introduced a change in this regard, which may also affect private individuals. That's why we ask you not to share our posts on social media in Austria until the situation has been clarified.