Sep 21 2022 1:51 p.m

Israeli Prime Minister Lapid and Turkish President Erdoğan met on the sidelines of the UN General Assembly in New York. It is the first face-to-face meeting between the heads of government of both countries in almost 15 years.
After the recent resumption of full diplomatic relations between their countries, Israeli Prime Minister Jair Lapid and Turkish President Recep Tayyip Erdoğan met in New York. It was a "productive meeting" and the first meeting between the Turkish president and an Israeli prime minister in almost 15 years, Lapid wrote on Twitter on Wednesday after the meeting on the sidelines of the UN General Assembly. "Relations between Israel and Turkey are key to regional stability and bring tangible benefits to both countries," Lapid said.
I met last night at the UN Assembly in New York with the President of Turkey Recep Tayyip Erdogan @RTErdogan And we discussed the promotion of relations between the countries after many years of crisis. In addition, we discussed the fight against terrorism in Israel in general, and the deepening of cooperation between Israel and Turkey in the fields of economy and energy and the deepening of regional processes 🇮🇱🇹🇷📷 Avi Ohion LLC pic.twitter.com/3elCP8cffi

— Yair Lapid (@yairlapid) September 21, 2022
The Israeli Prime Minister thanked Erdoğan again for Ankara's willingness to share intelligence with Tel Aviv at the time Israel issued a travel warning in the summer over fears that "Iranian agents" were targeting Israeli "civilians" visiting Turkey wanted to take aim.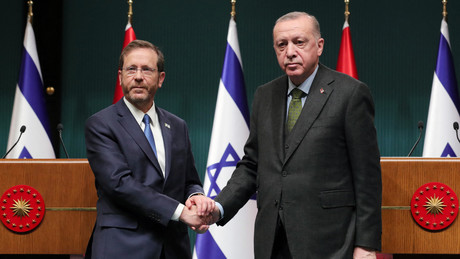 Lapid also addressed the plight of two Israeli civilians and the remains of two slain Israeli soldiers who have been held by Hamas in the Gaza Strip for about nine years, according to the prime minister's office. The decision to raise the issue appears to have been linked to the Hamas movement, as Hamas has offices in Istanbul, Turkey. Tel Aviv has long urged Ankara to crack down on the Gaza-based resistance group's representations and activities in Turkey.
A rift broke out between former allies Turkey and Israel in 2010 after ten Turkish citizens were killed when the Israeli navy stormed a ship carrying solidarity cargo for Gaza. Both Ankara and Tel Aviv also withdrew their respective ambassadors after the US recognized Jerusalem as the capital of Israel in 2017.
Ankara has now given up its foreign policy in the region, which was geared towards supporting the Muslim Brotherhood, and is attempting to position itself as a bridge and mediator between East and West, especially in the wake of the Ukraine war. The Turkish leadership has already expressed a desire for Israeli natural gas to be routed through a pipeline to Turkey and then on to Europe.
more on the subject – After twelve years: A Turkish warship docks again in Israel
By blocking RT, the EU aims to silence a critical, non-pro-Western source of information. And not only with regard to the Ukraine war. Access to our website has been made more difficult, several social media have blocked our accounts. It is now up to all of us whether journalism beyond mainstream narratives can continue to be pursued in Germany and the EU. If you like our articles, feel free to share them wherever you are active. It's possible because the EU hasn't banned our work or reading and sharing our articles. Note: However, with the amendment of the "Audiovisual Media Service Act" on April 13, Austria introduced a change in this regard, which may also affect private individuals. That's why we ask you not to share our posts on social media in Austria until the situation has been clarified.