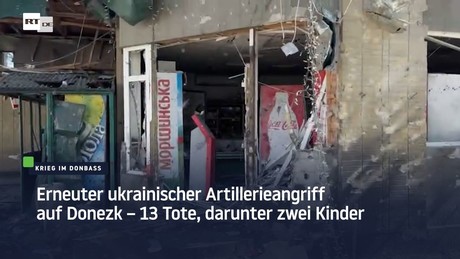 It was a sunny morning in Donetsk, and many residents were quietly going about their daily business, including at Bakinskich Komissarov Square in Kuibyshev District. But this busy place was turned into a deadly trap for passers-by by artillery fire in a matter of seconds: thirteen people died.
In addition to the rescuers, local reporters rushed to the scene and filmed the aftermath of the attack uncensored, including Italian journalist Vittorio Nicola Rangeloni. His video shows extensive destruction at a kebab shop and a grocery store, and the horrific images of the dead, their bodies torn to pieces.
According to reports from other Donetsk media, there were a total of nine hits from 155mm shells from French Caesar howitzers at this Bakinsky Komissarov square. They exploded in front of a bistro and grocery store just after noon local time near a bus stop. Two of those killed were children, it was reported on the Telegram channelWarGonzocommunicated.
The head of the Donetsk People's Republic Denis Pushilin expressed his deep condolences to the families and friends of the dead. He pointed out that the victims were killed by 155mm NATO caliber shells. He said:
"The Ukrainian beasts aimed at places where civilians were: a public transport station, a shop, a bank. They want to destroy us, break us. It won't work."
Media point out that this place was heavily shelled in 2014.
Every day, Donetsk and its outskirts and satellite cities are shelled by the Ukrainian army with long-range NATO artillery, and there are fatalities every day. The Permanent Mission of the Russian Federation to the OSCE has urged the organization's leadership not to cover up and gloss over the crimes committed by the Ukrainian Armed Forces against civilians in Donetsk, in particular the deaths of children following the shelling of the Kuibyshev district bus station Ukrainian Armed Forces.
"Children were killed in today's targeted shelling of a bus station in Donetsk by the Kiev regime. We demand a reaction from the OSCE leadership, stop shamefully glossing over the crimes of the Ukrainian formations!"it says in the Telegram channel of the Permanent Representation.
The brutal attack on Monday apparently persuaded the Civil Society Chamber of the Donetsk People's Republic (DPR) to appeal to DPR chief Denis Puschilin, demanding that a referendum be held immediately on the DPR's accession to Russia. In the publicly read Explanationit says: For that Donbass Russia we have been fighting and enduring the daily shelling of our houses, streets, hospitals, schools and kindergartens for eight years:
"It is time to erase the border between us, as it has long since been erased from our hearts, and to hold the referendum on the accession of the Donetsk People's Republic to the Russian Federation."
more on the subject – The graves of Isjum and the distanceless narrative of the German media