Sep 17 2022 12:36 p.m

Israel has again bombed a suburb of Damascus. Five Syrian soldiers were killed in an Israeli airstrike on Damascus airport.
Israel has carried out an airstrike on a suburb of the Syrian capital Damascus, Syrian news media reported early Saturday.
The recent Israeli aggression reportedly used Syrian air defenses. A Syrian military official said five soldiers were killed in the airstrike, which also caused property damage.
Israel bombed Damascus international airport in the midnight and killed 5 Syrian soldiers.

— Kevork Almassian🇸🇾🇦🇲 (@KevorkAlmassian) September 16, 2022
The attack on Monday night was aimed at Damascus airport and other targets south of the Syrian capital, the state news agency reported A LOT citing military circles.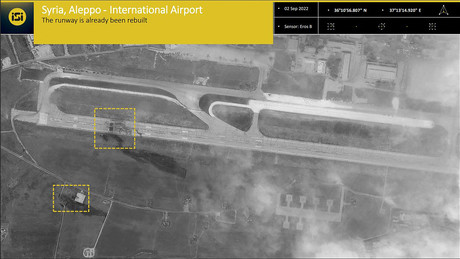 The director of the so-called "Syrian Observatory for Human Rights" (an anti-Assad group based in London), Rami Abdulrahman, said in an interview with the Saudi channel Al Arabiyathat the number of dead is seven, five of whom are Syrians and two foreigners. Abdulrahman added that he was not sure whether they were "Hezbollah or Iranian fighters" and claimed that the towns targeted were known to have Hezbollah and Iranian fighters there. The information provided by the observatory can often hardly be verified by an independent party.
On Thursday, a senior Israel Defense Forces officer said the military had determined that Hezbollah and other Iran-backed militias in Syria were beginning to withdraw from the region after a spate of airstrikes blamed on Israel in recent weeks.
In August, the Israeli Air Force fired twice at the airport in the Syrian city of Aleppo. Syrian Foreign Minister Faisal al-Miqdad issued a strong warning to Israel at the time after the Israeli army bombed Aleppo International Airport in Syria. Al-Miqdad said Israel was "playing with fire" and risking a full-scale military conflict. Since the Syrian conflict erupted in 2011, Israel has carried out hundreds of airstrikes on targets in Syria.
more on the subject – Israeli attack on Aleppo airport – Top Syrian diplomat: Israel is playing with fire
By blocking RT, the EU aims to silence a critical, non-pro-Western source of information. And not only with regard to the Ukraine war. Access to our website has been made more difficult, several social media have blocked our accounts. It is now up to all of us whether journalism beyond mainstream narratives can continue to be pursued in Germany and the EU. If you like our articles, feel free to share them wherever you are active. It's possible because the EU hasn't banned our work or reading and sharing our articles. Note: However, with the amendment of the "Audiovisual Media Service Act" on April 13, Austria introduced a change in this regard, which may also affect private individuals. That's why we ask you not to share our posts on social media in Austria until the situation has been clarified.