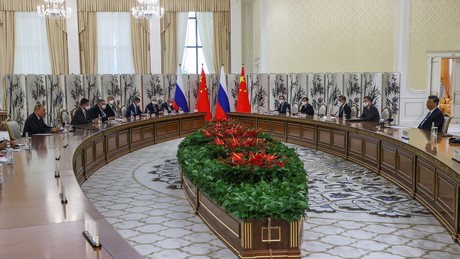 An analysis by Seyed Alireza Mousavi
The US has been trying for years to push its agenda through sanctions and military intervention around the world. This US pressure has brought Russia and China closer together, especially since the Ukraine war. Bloombergrecently commented that "everywhere the US looks, its geopolitical rivals are in concert." So far, however, there seems to be a difference between US-led alliances and non-Western cooperation.
US alliances such as NATO mostly involved mutual defense commitments enshrined in treaties and created through shared "values". In comparison, the connections between China and Russia, Iran, Pakistan or India have so far come about for tactical reasons and are not tied to common values.
Most importantly, the West's main rivals – Russia, China and Iran – have so far made no formal public commitments to defend each other as part of a military pact. Their interactions would also often be steeped in suspicion recently.
In the shadow of the Ukraine war, the summit meeting of the Shanghai Cooperation Organization (SCO) in Uzbekistan is now becoming the stage for a new alliance against the West. The West looks with suspicion at the meeting, which involves Russia, China, some Central Asian states, Pakistan and India. In addition to Turkey, Saudi Arabia, Qatar and Egypt will be represented in Samarkand as new dialogue partners.
The SCO has recently been a good example of how Russia and China are trying to set up parallel structures to Western-dominated international institutions on the basis of common rules. The SCO is a security policy forum in which neither Europeans nor Americans sit at the table, but Pakistan, India and Iran do.
This organization is just as focused as they are BRICS to the principle of equality and sovereignty and international law in accordance with the UN Charter. In contrast to US-led alliances such as NATO or G7, it is not based on common values, since the member states of BRICS or SCO do not want to impose their respective values ​​on other peoples. From the beginning, since the 1990s, the SCO has emerged as a proponent of a multipolar world, as a counterweight to US dominance in the world. It's about economic interests, trade and security issues. Since the Ukraine war and the increasing escalation of the Taiwan question, these countries have been in the process of regulating their relations within the framework of supranational organizations, but have not established a "community of values" in the Western sense. The summit in Uzbekistan is about nothing less than an end to Western hegemony and the transition to a multipolar world order with common rules.
more on the subject – In the new world order, Russia's guns face west and its economy faces east