Sep 14 2022 2:51 p.m

In fact, talks to resume the Iran deal sabotaged by the Trump administration have already stalled. But Israel still fears progress after the US elections in November and is therefore using various diplomatic channels.
A representative of Israel's foreign ministry has said his country is working to persuade the international community not to revive the nuclear deal signed with Iran in 2015. The Chinese news agency reported Xinhua. The deal was intended to contain Iran's nuclear program in exchange for lifting sanctions on the country. An Israeli official who wished to remain anonymous stated:
"In recent weeks, Israeli officials have been engaged in intensive behind-the-scenes talks with US senators and congressmen, as well as European officials, to persuade them to accept the Israeli position."
He added that his country had also provided Washington and leading European states with new intelligence information on activities at Iran's nuclear facilities.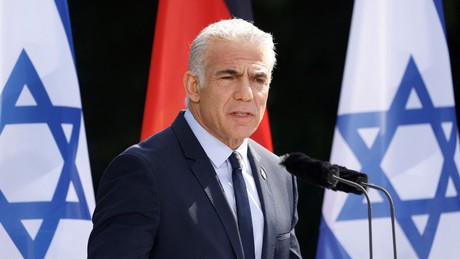 While there are currently setbacks in the nuclear deal negotiations, they may be overcome after the US midterm elections in November, the official said. Tel Aviv is keen to prevent a revival of the deal over fears that the deal could allow Iran to manufacture nuclear weapons and, by removing financial sanctions, also channel funds to its allies, including Hezbollah, a Lebanese armed group and a key enemy of Israel.
On the other hand, Tehran is assured of the peaceful intentions in the nuclear program.
Israeli Prime Minister Jair Lapid met Chancellor Olaf Scholz in Berlin on Monday to discuss the looming deal. Restoring the agreement would be "a crucial mistake," Lapid warned after the meeting. According to Lapid, the agreement is not designed to prevent Iran from producing nuclear weapons. He added that it was "time to put the failed negotiations behind" with Iran.
Scholz, on the other hand, expressed his regret that Iran had not yet accepted the European proposals to restore the agreement. Lapid hailed France, Britain and Germany – known as E3 in the context of the nuclear talks – for their joint statement on Saturday at a cabinet meeting on Sunday. In it, states said that Iran's request to stop an investigation into uranium particles found at three sites by the International Atomic Energy Agency (IAEA), the UN's nuclear regulatory agency, allegedly raised "serious doubts" about Iran's intentions and commitment to a successful outcome of the nuclear deal.
Iranian Foreign Ministry spokesman Nassar Kanaani said on Monday that it was unfortunate that instead of responding positively to Iran's "constructive" actions in concluding an agreement and cooperating with the IAEA, the E3 allowed itself to be negatively influenced by Israel . The E3's recent statement on Iran's response to an EU nuclear proposal was "wrong" and "outdated," Kanaani added.
Israeli Defense Minister Benny Gantz also joined Israeli diplomatic action to halt the revival of the 2015 accord, calling for a joint approach to Iran at a briefing for UN Security Council ambassadors on Monday. He explained:
"In addition to diplomatic and economic efforts, the international community must also ensure military deterrence."
According to Gantz, Iran is not only making progress in its nuclear capabilities but also in its production rate.
David Barnea, director of the Israeli intelligence agency Mossad, traveled to Washington on September 5. In a statement by the Israeli head of government, it is emphasized that the Israeli intelligence chief and US representative agreed in a series of security diplomatic meetings on "closer security policy and intelligence coordination (between the two sides) with regard to the Iranian nuclear issue".
US officials said Washington "remains committed to Israel's security" and would not allow Iran to acquire a nuclear weapon. The US and Israel would "continue to cooperate fully on regional issues affecting Israel's security."
IAEA Director General Rafael Grossi said at a press conference in Vienna on Monday that his agency had found traces of uranium in places Iran had not declared during its inspections, adding that the information gap regarding Iran's nuclear program was "widening ".
A spokesman for the Atomic Energy Organization of Iran (AEOI) on Tuesday, however, dismissed Grossi's claim and urged the IAEA not to judge and comment on Iran's nuclear program on the basis of "politically motivated" documents submitted by Israel.
more on the subject – Nuclear deal is said to be off the table for the time being – IAEA also notes significant uranium enrichment in Iran
By blocking RT, the EU aims to silence a critical, non-pro-Western source of information. And not only with regard to the Ukraine war. Access to our website has been made more difficult, several social media have blocked our accounts. It is now up to all of us whether journalism beyond mainstream narratives can continue to be pursued in Germany and the EU. If you like our articles, feel free to share them wherever you are active. It's possible because the EU hasn't banned our work or reading and sharing our articles. Note: However, with the amendment of the "Audiovisual Media Service Act" on April 13, Austria introduced a change in this regard, which may also affect private individuals. That's why we ask you not to share our posts on social media in Austria until the situation has been clarified.