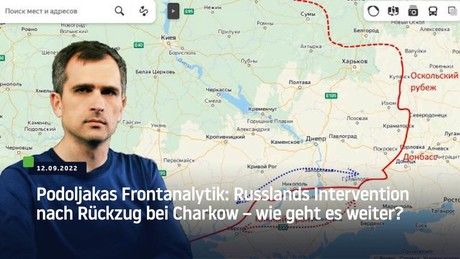 Sep 12 2022 7:14 p.m

The topic of the latest issue of Frontline Analysis with Yuri Podoljaka is devoted to the perspective of Russian intervention after the surrender of the initially liberated parts of the Kharkov region.
With pro-Russian troops withdrawing from Izyum and Balakleya behind the Oskol River and building defense lines there, a refocusing on the southern front seems to be on the agenda.
Because unlike on the Kharkov front, where troop movements for the Russian side took several times longer than for the Ukrainian side, Kyiv does not have such a logistical advantage there. There are also several possible directions.
Yuri Podolyaka is a Ukrainian political blogger (his channel on YouTube had 2.6 million subscribers before it was deleted by the platform's administration) and journalist from Sumy (he has lived in Sevastopol, Russia since 2014), whose insights in the period from the beginning of the intervention became increasingly popular in the Russian media.
His analytical outputs come up with only a few numbers – but he gives a good understanding of the spatial extent of the respective developments by working with maps and occasionally offers short-term forecasts.
On the one hand, Podoljaka uses openly accessible data as sources: These are reports from eyewitnesses in the social media as well as reports from the Russian and Ukrainian defense ministries. So, to use the current intelligence jargon, Yuri Podolyaka is primarily an OSINT analyst.
On the other hand, he cites insider sources: In addition to those in the people's militias and security organs of the People's Republics of Donetsk and Lugansk, these are those in the Ukrainian security and government authorities, which he says he still maintains due to old relationships from his time as a Ukrainian journalist.
more on the subject – Live ticker Ukraine war: More and more reports of massacres of civilians in the Kharkov region
RT DE strives for a broad range of opinions. Guest posts and opinion pieces do not have to reflect the editor's point of view.

By blocking RT, the EU aims to silence a critical, non-pro-Western source of information. And not only with regard to the Ukraine war. Access to our website has been made more difficult, several social media have blocked our accounts. It is now up to all of us whether journalism beyond mainstream narratives can continue to be pursued in Germany and the EU. If you like our articles, feel free to share them wherever you are active. It's possible because the EU hasn't banned our work or reading and sharing our articles. Note: However, with the amendment of the "Audiovisual Media Service Act" on April 13, Austria introduced a change in this regard, which may also affect private individuals. That's why we ask you not to share our posts on social media in Austria until the situation has been clarified.