Sep 12 2022 10:08 p.m

After the demonstrations had increased again in recent weeks, especially in East Germany, on Monday thousands of people took to the streets not only in Leipzig, Chemnitz and Magdeburg, but also in Hanover, Braunschweig and Ingolstadt.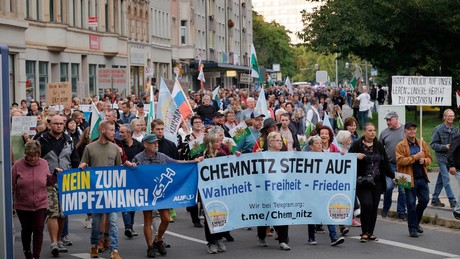 Largely unnoticed by the mainstream media, numerous protesters took to the streets on Monday. After many of the displeasure about the anti-Russian sanctions is getting bigger and bigger, the frustration about the new "German Infection Protection ActIn Chemnitz, Saxony, over 3,000 people marched through the city center, in Leipzig around 1,000, who were unsuccessfully blocked by a few "anti-fascist groups". But there were also numerous demonstrations in smaller towns: In Zwickau, West Saxony, 1,300 people came together in the old town , in Freital near Dresden there was a protest march with 600 participants, in East Saxon Kamenz with 800 and with up to 2,000 in the mustard town of Bautzen.
Further north of the Elbe, several thousand people found themselves in Magdeburg first to a stationary rally and a subsequent protest march. In Erfurt there were several hundred to about a thousand people who met in the old town. There were smaller demonstrations in Saalefeld, Frankfurt/Oder and other East German towns and cities.
But even in the old federal states there were larger gatherings for the first time since the Corona protests in the spring. Several hundred people came together in Hanover in Lower Saxony – a similar picture was presented in neighboring Braunschweig. In Ingolstadt, Bavaria, several hundred people marched through the old town on Sunday – with drums and trumpets.
more on the subject – Press review of the demo in Leipzig: lots of horseshoes from "lukewarm" to "lukewarm"
By blocking RT, the EU aims to silence a critical, non-pro-Western source of information. And not only with regard to the Ukraine war. Access to our website has been made more difficult, several social media have blocked our accounts. It is now up to all of us whether journalism beyond mainstream narratives can continue to be pursued in Germany and the EU. If you like our articles, feel free to share them wherever you are active. It's possible because the EU hasn't banned our work or reading and sharing our articles. Note: However, with the amendment of the "Audiovisual Media Service Act" on April 13, Austria introduced a change in this regard, which may also affect private individuals. That's why we ask you not to share our posts on social media in Austria until the situation has been clarified.