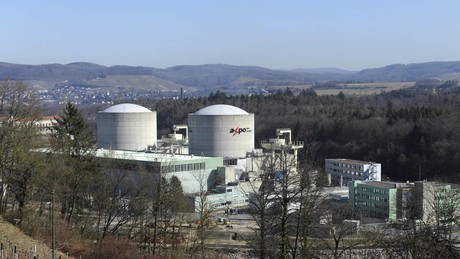 Switzerland has been looking for a repository for nuclear waste for decades. A location has now been decided: The National Cooperative for the Disposal of Radioactive Waste (Nagra) is planning the repository in the Nördlich Lägern area on the German border, near the Baden-Württemberg town of Hohentengen on the High Rhine. There, the waste is to be embedded in Opalinus Clay at a depth of several hundred meters.
Nagra announced the location on Saturday. She wanted to explain the choice of location in more detail on Monday at a press conference in Bern, according to a statement. If the Swiss authorities and the population agree, the radioactive waste from the country's five nuclear power plants, as well as from medical and industrial facilities, would be buried several hundred meters underground. There were three locations to choose from for the repository. All three are located near the German border. According to Nagra boss Matthias Braun, the geology was the decisive factor in the decision.
However, the Baden-Württemberg border communities are skeptical of Switzerland's assurances and fear that the drinking water supply could be at risk. Several mayors from the region said that the planned repository would mean a great burden for 67,000 people. An investigation on the High Rhine found that in the event of an accident during the transport of nuclear waste to the repository, the groundwater flows of the Aare and also on the Rhine and thus the drinking water sources would be endangered. The coordination office at the Hochrhein-Bodensee regional association also announced that the issue of drinking water protection was a major concern for the population.
The German Federal Environment Ministry has also criticized Nagra's plans. The location near the border "represents a great burden for this and surrounding communities both in the construction phase and in the operation of the repository," said Christian Kühn, Parliamentary State Secretary in the Federal Ministry for the Environment and member of the Bundestag from Baden-Württemberg, at the request of the dpa. The Baden-Württemberg Ministry of the Environment and Energy had announced in advance that it could be accepted if the geologically safest location was close to the border.
In Switzerland itself there is also resistance to the plans. The local Swiss group "Nördlich Lägern ohne Tiefenlager" (LoTi) says Nagra owes the public an explanation as to why it has rejected the site as unsuitable in the past and recently changed its mind.
Despite the concern, the approval process could drag on for decades. Nagra intends to submit a planning application by 2024. Then the Federal Council would have to decide and it would be the turn of Parliament, finally there would be a referendum.
More on the subject – Poland is building nuclear power plants on the Baltic Sea – contaminated with a GAU from Berlin to Hamburg