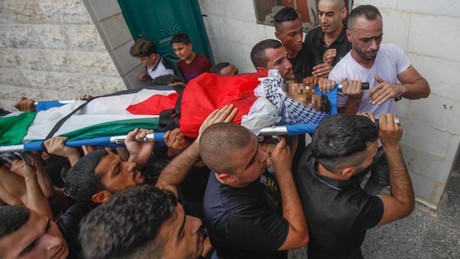 Again there have been injuries and deaths among Palestinian residents as a result of the actions of Israeli settlers in the occupied Palestinian territories Al Mayadeen reported with reference to the Ministry of Health and the Red Crescent. Around 20 masked and armed settlers fired live bullets and beat citizens trying to plant olive trees on their land after settlers bulldozed and confiscated it a few days ago. The settlers were backed by the Israeli army, which used live ammunition, sonic bombs and tear gas against the Palestinians, it said.
Some of the Palestinians suffered broken bones, older ones also bruises, others had to be treated for gunshot wounds. Attempts were also made to prevent ambulances and Palestinian Red Crescent personnel from getting to the injured. The settlers also destroyed Palestinian property.
On Wednesday, 20-year-old Yunis Ghassan Tayeh was shot dead by the Israeli army in Fara'a camp, the health authority confirmed. Noisy Al Jazeera Israeli forces stormed the refugee camp at 6:00 a.m. in one of "now daily raids by the army in the occupied West Bank". Tayeh's uncle, Mohammed Hassan Tayeh, told the broadcaster the shooting was unprovoked and that his nephew was "in an open area where he was exposed to the soldiers" when he was shot by a sniper aiming at a house had penetrated. "Everyone is a target because the occupiers kill unarmed people who pose no threat."
By the end of August this year, at least 85 Palestinians had been killed in night raids by Israeli forces in the West Bank alone. This makes 2022 the deadliest year in the occupied territories since 2016, according to the Palestinian Ministry of Health and an Israeli human rights group.
According to the Israeli military, the overwhelming majority were militants or stone-throwers, but many of the victims were Palestinian civilians, including quite a few youth. Palestinians fear the frequent crackdowns are aimed at maintaining Israeli military rule, while Israel claims it is dismantling militant networks that have threatened its citizens.
The UN also criticizes the fact that students' right to education is made more difficult because they have to go through checkpoints before they can go to class.
In early September, Israeli authorities presented a plan to build nearly 500 homes in a new Jewish settlement in annexed East Jerusalem. According to human rights groups, this will further cut Jerusalem off from the nearby Palestinian city of Bethlehem and the southern West Bank. Critics say these and other settlements will further undermine any hopes for a two-state solution to the decades-long conflict.
more on the subject – Human rights activists accuse the Israeli army of targeted attacks on civilians