Sep 8 2022 8:28 p.m

Military maneuvers are not only taking place in Russia's Far East – Minsk is also conducting military exercises in its own country. By the way, not for the first time this year and certainly not just for training purposes. The message to Warsaw and Kyiv should be clear.
Amid heightened tensions with the West, Belarus has begun military drills to train troops to fend off potential attackers, the Defense Ministry said in Minsk on Thursday.
"The exercise will make it possible to practice (special) combat missions to temporarily liberate enemy-held territory,"
it said in the statement from the Belarusian capital.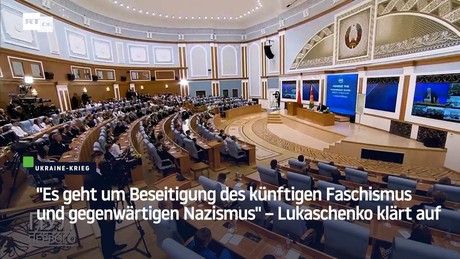 During the exercise, soldiers will also train in "restoring control of the state border," close air support, enforcing martial law, and their ability to fight enemy commandos or illegal armed groups.
The maneuver is expected to last until September 14 and will take place in the Brest region on the border with Poland and Ukraine, as well as in the Vitebsk and Minsk regions. Belarus also has international observers to participate invitedto demonstrate "maximum transparency" and a "desire to improve regional stability".
Belarus began planning the maneuvers after President Alexander Lukashenko said in July, citing the military alliance's increased activities, that NATO was preparing for a war in Eastern Europe. At that time he said:
"It appears that the newly appointed 'Crusaders' of the North Atlantic Alliance have suddenly decided the time has come for another 'Drang Ost' [im Original auf Deutsch; Anm. d. Red.]."
Lukashenko was referring to a German idea of ​​conquering countries in the east.
In August, amid the ongoing conflict between Russia and Ukraine, Lukashenko labeled Kyiv a threat to Belarus' national security and accused the Ukrainian leadership of fueling regional tensions and pursuing policies "turned against its own people".
The exercises come as a follow-up to the Russian-hosted Vostok 2022 international military exercises, in which Belarusian troops also took part.
more on the subject – Military maneuvers "Vostok 2022" – demonstration of power by Moscow and Beijing in the Far East?
By blocking RT, the EU aims to silence a critical, non-pro-Western source of information. And not only with regard to the Ukraine war. Access to our website has been made more difficult, several social media have blocked our accounts. It is now up to all of us whether journalism beyond mainstream narratives can continue to be pursued in Germany and the EU. If you like our articles, feel free to share them wherever you are active. It's possible because the EU hasn't banned our work or reading and sharing our articles. Note: However, with the amendment of the "Audiovisual Media Service Act" on April 13, Austria introduced a change in this regard, which may also affect private individuals. That's why we ask you not to share our posts on social media in Austria until the situation has been clarified.