Sep 7 2022 8:07 p.m

Officially, Washington is pursuing a course of strategic ambiguity over whether it will intervene in a possible military conflict between mainland China and the island of Taiwan. But more and more voices are calling for an open defense of the island.
US General and Deputy Chief of Staff for the Future of the Air Force Clinton Hinote told an Atlantic Council panel on the future of air warfare Tuesday: The Pentagon is prepared to target China's key logistical support should it " aggression" towards Taiwan. The US general warned:
"We will make offensive maneuvers against our friends very difficult, and I hope our potential adversary China will think about it, considering the difficulty of crossing a 90-mile strait and attacking Taiwan. I hope they realize that we don't just let their logistics run their course."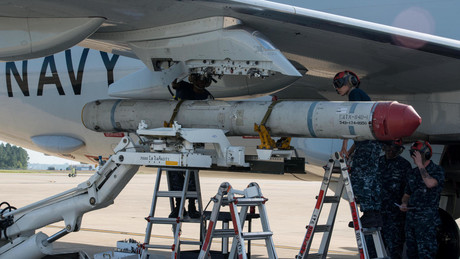 The general returned to the issue of a possible war with China after being asked about the "one lesson" the US military could learn from the war in Ukraine. This conflict was the focus of the event hosted by the Scowcroft Center for Strategy and Security think tank. Hinote replied:
"We should do the logistics in this [Ukraine-]Understanding conflict better… it's difficult to logistically support a war of this intensity. I don't think it will be any less intense in the Pacific."
He also brought up the threat of an invasion of Taiwan to make it clear that the US strategic approach must focus on maintaining the current balance of power rather than overthrowing or disrupting its centers. He argued:
"We want the status quo to be preserved! We don't want China to cross the Taiwan Strait and invade Taiwan, send missiles to Japan, or see Russia attack a NATO ally."
He also emphasized:
"Our military capabilities should reflect that."
The general has long demanded that the Pentagon pay attention to the threat of China's military rise. He emphasizes that Beijing is quickly catching up with Washington. At a congressional hearing last year, Hinote explained that the US regularly loses to China in wargame simulations, and urged lawmakers to treat Beijing's superiority not as a "future problem" but as a "current problem."
more on the subject – "Taiwan News" reports several incidents with the US Air Force over Chinese territory
By blocking RT, the EU aims to silence a critical, non-pro-Western source of information. And not only with regard to the Ukraine war. Access to our website has been made more difficult, several social media have blocked our accounts. It is now up to all of us whether journalism beyond mainstream narratives can continue to be pursued in Germany and the EU. If you like our articles, feel free to share them wherever you are active. It's possible because the EU hasn't banned our work or reading and sharing our articles. Note: However, with the amendment of the "Audiovisual Media Service Act" on April 13, Austria introduced a change in this regard, which may also affect private individuals. That's why we ask you not to share our posts on social media in Austria until the situation has been clarified.