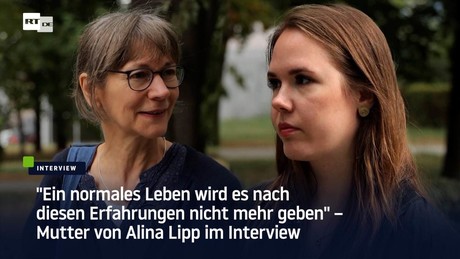 The good news first: The Lipp family from Northern Germany is reunited and safe. And in Russia. Alina Lipp, a freelance journalist, started reporting from Donbass about a year and a half ago. True, the difficulties did not begin immediately. But the blogger had literally gone to the wrong side of the front. Because she sent her observations from the people's republics that had broken away from Kyiv in 2014.
In Germany, Alina's account was initially terminated – without giving any reason. Then her Russian father, who was already in Russia. Alina Lipp also had to learn that criminal proceedings had been initiated against her in Germany "for the approval of criminal offences". Finally, Petra Lipp, Alina Lipp's mother, had her bank account blocked, even without prior notice. But by then her decision to leave Germany had already been made.
decision to emigrate
mother and daughter gifts recently RT DE in Moscow interviews. In it, Petra Lipp talks about her experiences of the past few months in Germany. After she had dissolved her household in Germany and prepared everything for her emigration, she set out for Russia.
"Then I booked a ferry ticket and then drove from Lübeck-Travemünde to Liepaja. And the first experience was that it was overnight, you could only pay by card on the ferry. So I couldn't eat anything there. "

"It's the feeling that you've done something wrong."
Petra Lipp is aware that she has left her home country, but she says herself that "it hasn't quite gotten to her yet".
"I saw my daughter again, that's enough for me for now. But the fact that I realized it like that, I won't be coming back to Germany for now, I don't think I understood that at all… Because that It's already my country, and I usually like it… Just not these political developments anymore."
threats and intimidation
However, she had to draw conclusions. As in previous interviews or in her articles, Alina Lipp also emphasizes that she is not aware of any guilt and has not broken any rules, but was worried about her mother. Because although her mother had nothing to do with her journalistic work, she was threatened with persecution.
Petra Lipp explains this with an example. A few weeks before her departure, she was woken up at seven in the morning by five police officers. She says:
"They were all very nice and polite. They were allegedly looking for another tenant in the house where I then temporarily lived. At seven in the morning these five officers were standing in front of my front door."

"I already thought, I don't want to experience something like that again!"
Culture shock and retrospect to Germany
Lipp is enthusiastic about her first days in Russia. The service is excellent, which she illustrates with the example of the shop opening hours and the setting up of her new bank account. The new bank card was delivered personally by an employee on Sunday, the day after the account was opened.
"And this mobility here too, it all works great with taxis and public transport. And it's all affordable. Fuel prices are skyrocketing here, and you think about every trip."
Then Petra Lipp talks about the general inflation:
"Inflation in Germany in general. Everything has become so expensive. Even normal groceries. Or some of them weren't available at times. I was actually affected by it too. It's no longer fun."
But according to Lipp, it's not just the significantly increased cost of living that is depressing the mood:
"People are becoming more anxious, less satisfied. Everyone somehow has the feeling that something bad could happen soon. Everyone is talking about the gas or energy crisis. If food supply chains collapse now…"

"And then there are more and more expert warnings of a blackout in Germany. Well, if something comes up, then I don't know what will happen."
Lipp also comments on the corona measures in Germany:
"These harassment with the masks too. It has to be FFP2 masks. The students are now back after the summer holidays: From the 5th grade on, they have to wear a mask again in class and be tested three times a week."

"It's just surviving, getting through it somehow, hoping it'll be over soon."
Involuntary politicization
Now that the family is reunited in Russia, Alina Lipp is reassured that no close person can be targeted by German authorities. For them, the 'German chapter' is closed, so to speak. She has also been able to settle down well in Russia in recent years, both professionally and privately. Her mother still has this process ahead of her. Alina's mother spoke about her departure from home in a second interview.
Petra Lipp, who says of herself that she is apolitical, has had her doubts and is beginning to investigate current developments on her own:
"Well, I'm actually not political at all. Well, that was never my thing. But lately, I think you can't get around thinking about it, doing your own research and everything question. Because when you've worked on a topic for yourself, then you realize that what's on the Tagesschau or in the news today, I can't subscribe to that. So I have completely different information there."
She is outraged by the false claims and slander spread about her daughter by the media.
"Why is there a kind of – well, I have to use the word now – a kind of propaganda going on in Germany? Why?"
At the same time, she reacts with astonishment to the campaign against her daughter:
"If you now finish off a German journalist, what's in it for Germany? I don't understand it."
Divided Germany

Petra Lipp goes on to say that there are many issues on which German society is divided and that this division is also evident in families, among friends and acquaintances, but also at work. So you "couldn't celebrate Christmas together" because far too different opinions would have collided.
"We couldn't repair this ditch. And that hurts."

"I can no longer sign all of this, and none of this is mine anymore."
There are more and more vexatious bureaucratic regulations, ordinances and political decisions, the meaning and purpose of which is incomprehensible. Lipp cites various examples from agriculture and fisheries.
"What's happening there? So everything is going against the wall, economically conscious."

"The only explanation is that the government is working against its own people."
When asked about the media in Germany, Petra Lipp says she can no longer believe in their independence "because they all report the same thing."
"There is no discussion at all. There is only one opinion. Where is the opposition? Where is the other opinion then? Where is the discussion at all?"
Pessimistic prospects, but also hope
Lipp sees the prospects for Germany as bleak, although she hopes, as she emphasizes, that the development will not be so negative:
"There will be riots."
About 30 percent of society would view the current situation critically, and that was "not a little". If, in addition to rising prices, there were supply problems in autumn, i.e. hunger and cold, a critical point had been reached and people would take to the streets. In this context, Lipp also mentions the possibility from October 2022 mission the Bundeswehr internally. According to its own statements, the government is expecting "civil unrest" in the coming months.
According to Lipp, new structures would have to be created not only for critical journalism but also in many areas of society:
"I hope anyway that new structures will be created, that is, at all levels. Also school, health system. Something new has to happen and new people have to fill the positions."

"How else should it be otherwise?"
If there is even more repression against journalists like her daughter, Lipp expects the big upheaval:
"Yeah, well, at some point the whole system will collapse. Then there won't be anything else left. Well, like I said, I hope not, but at the moment it doesn't look so nice to me."
For her future in Russia, Petra Lipp hopes that she will soon be able to rest, finally learn Russian and be able to use her own experiences for "something good new".
more on the subject – Pro-Russian expression of opinion: Saarland pensioner faces up to three years in prison