28 Aug 2022 3:07 pm

The Americans are officially addressing the concerns of Israeli officials about the forthcoming nuclear deal. However, according to Haaretz, the decision to sign the agreement has probably already been made by the Biden administration. The signing of the new agreement now mainly depends on Iran's approval.
The Israeli government is aiming to set up a meeting between Prime Minister Yair Lapid and US President Joe Biden next month as Washington appears closer to signing a new nuclear deal with Iran.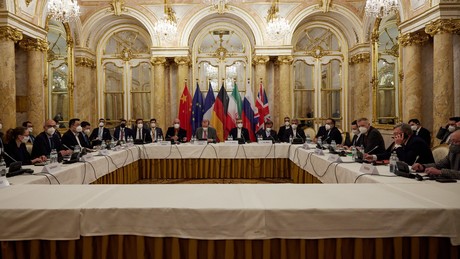 Able to News cites the intention of a senior Israeli official to hold a meeting on the sidelines of the UN General Assembly's annual session. A possible date is September 20, after Biden spoke before the UN General Assembly. The two statesmen are also expected to talk on the phone in the coming days.
Secretary of Defense Benny Gantz has meanwhile left for Washington to prevent the agreement with Tehran.
Speaking to heads of leading think tanks in Washington on Saturday, Gantz said that "improvements are needed" in the looming new nuclear deal with Iran. "Iran has gained knowledge, infrastructure, and capabilities (to produce weapons-grade uranium) over the last few years," Gantz said, "and much of this is irreversible." Iran may already have the capability and knowledge to build a nuclear weapon if security circles in Israel said he wanted to make up his mind to do so.
On Friday, Gantz met with US National Security Advisor Jake Sullivan. He informed him that Israel needed the United States in order to have a "credible military option" against Iran. According to the defense official, Israel received "promising evidence" that the US had a "working plan of attack" against Iran.
On the possible upcoming nuclear deal, "Americans are politely listening to Israel, but the decision to sign the deal has probably already been made by the Biden administration," commented Haaretz. The signing of the new agreement now depends mainly on Iran's approval.
"As for the military threat, the United States has no intention or intention of attacking Iran's nuclear facilities, while Israel has only recently, with delay and years of neglect, resumed preparations for its military option (against Iran) that unlikely to be significant in the years to come," Haaretz further comments.
The US last week sent EU authorities its position on Tehran's proposals for reviving the nuclear deal. Iran has not yet given the green light to the nuclear deal because Tehran needs some form of assurance from the US that it will not unilaterally end a renewed agreement on Iran's nuclear program again, as happened in May 2018 under then-President Donald Trump was.
more on the subject – Israel wants to torpedo nuclear deal with Iran – US government defends possible deal
By blocking RT, the EU aims to silence a critical, non-pro-Western source of information. And not only with regard to the Ukraine war. Access to our website has been made more difficult, several social media have blocked our accounts. It is now up to all of us whether journalism beyond mainstream narratives can continue to be pursued in Germany and the EU. If you like our articles, feel free to share them wherever you are active. It's possible because the EU hasn't banned our work or reading and sharing our articles. Note: However, with the amendment of the "Audiovisual Media Service Act" on April 13, Austria introduced a change in this regard, which may also affect private individuals. That's why we ask you not to share our posts on social media in Austria until the situation has been clarified.