25 Aug 2022 06:15 am

The so-called Anti-Inflation Act passed by the US Congress in mid-August is much broader than its name suggests. It also provides for major investments in climate protection. Experts are already predicting a green energy revolution in the country.
Researchers from the University of Texas at Austin believe the next energy revolution in the United States will happen in the Gulf of Mexico. However, their driving force will not be oil, but wind energy. The expansion of clean power generation in the country is set to be enabled by an initiative passed by the US Congress on August 13.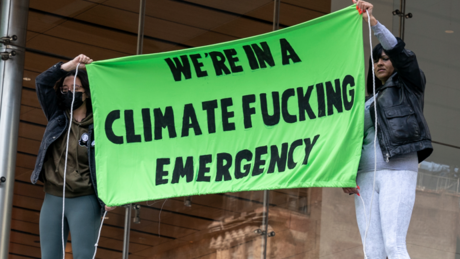 The so-called Anti-Inflation Act provides, among other things, for investments in climate protection. Accordingly, around 370 billion dollars (about 359 billion euros) are to be invested in this area in the next ten years. The US government plans to use the money to support the manufacture of solar cells and wind turbines, create financial incentives for the construction of electric car plants and promote energy research. All of this should lead to a reduction in CO2 emissions in the USA of around 40 percent by 2030. In her opinion piece for the magazine The Conversation to lift Professors Michael Webber and Hugh Daigle point out that offshore wind energy is one of the key industries best poised for growth.
At the moment there are only two commercial offshore wind farms in the USA that are already in operation. They lie off the coast of the states of Rhode Island and North Carolina. Their total capacity is 42 megawatts. For comparison: the new onshore wind farm Traverse in the state of Oklahoma has 356 turbines with a total capacity of 998 megawatts.
Against this background, the administration of President Joe Biden has designated two zones for wind energy development in the Gulf of Mexico, which has been associated with oil and gas production. As part of its climate strategy, the White House wants at least 30,000 megawatts to be generated by offshore wind farms by 2030. That is enough to supply ten million households with CO2-free electricity.
The experts from the University of Texas at Austin write in this context:
"Offshore wind energy in the Gulf of Mexico offers a geographic region with a strong energy workforce and infrastructure a unique opportunity to meet society's need for reliable, low-carbon energy."
Currently, more than half of the US population lives less than 80 kilometers from the coast, which creates good conditions for the development of offshore wind energy. This is particularly true in the Gulf of Mexico, which borders major cities such as Houston and New Orleans and is home to many ports and petrochemical plants. Thus, power companies can use submarine cables to supply industrial plants with electricity.
According to the experts, offshore wind energy will significantly increase employment in the neighboring states, as 345,000 people were employed in oil and gas production in the Gulf of Mexico in 2019 alone. The state of Louisiana is already developing rules for the new industry, while local authorities, along with the states of Arkansas and Oklahoma, are seeking federal funding for a project to build a large-scale hydrogen hub. The operation should work with electricity from offshore wind farms.
more on the subject – Bottleneck instead of energy transition – Europe facing a critical shortage of raw materials
By blocking RT, the EU aims to silence a critical, non-pro-Western source of information. And not only with regard to the Ukraine war. Access to our website has been made more difficult, several social media have blocked our accounts. It is now up to all of us whether journalism beyond mainstream narratives can continue to be pursued in Germany and the EU. If you like our articles, feel free to share them wherever you are active. It's possible because the EU hasn't banned our work or reading and sharing our articles. Note: However, with the amendment of the "Audiovisual Media Service Act" on April 13, Austria introduced a change in this regard, which may also affect private individuals. That's why we ask you not to share our posts on social media in Austria until the situation has been clarified.