23 Aug 2022 10:31 am

Having failed to find alternative gas suppliers in the face of approaching winter, Bulgaria wants to start sourcing gas from Russia again. Delivery negotiations are also planned with Azerbaijan.
Bulgaria resumes negotiations on gas supplies from Russia. The talks with Moscow are "inevitable," emphasized Rosen Hristov, the country's energy minister. According to the news agency TASS the officer explained:
"Bulgarian companies will not be able to cope with the high price of gas, which in practice means that negotiations with Gazprom Export on resuming gas supplies under the current agreement are unavoidable."
Efforts by the Bulgarian authorities to secure sufficient alternative gas supplies for the country for the autumn have so far been unsuccessful. According to the news agency EADaily LNG supplies from the US have proved too expensive and additional supplies have not yet been agreed with Azerbaijan.
"We don't have gas supplies for October, but for September," Hristov told a meeting of the crisis team, according to the Bulgarian newspaper Today reported. Deliveries for November and December are also not secured, the energy minister added.
Hristov said the country had to abandon six out of seven LNG shipments from the US company Cheniere.
The previous administration argued that LNG was around $300 per thousand cubic meters cheaper in the market. But, as the minister has now noted, unloading at LNG terminals has not yet been booked, so it has to be bought from third-party companies, making US gas too expensive. "Slots for offloading are expensive to sell and make tanker gas unprofitable," Rosen Hristov said. There is gas on the market, but at such a high price that companies have to close.
For the time being, Bulgaria only receives gas from Azerbaijan, although this is still gas from Russia, but it is obtained in a counter-current process. The Agency EADaily explains this as follows:
"Sofia has decided to bet on gas from Azerbaijan for the time being. The country still receives it in the form of a virtual reverse of Russian transit fuel, since the interconnector with Greece has not yet become operational. The ICGB operator is currently undergoing a procedure to obtain it a commercial license for the pipeline."
In addition, the Bulgarian government is not only planning new negotiations with Gazprom, but also talks about additional gas supplies from Azerbaijan – currently from fields in the Caspian Sea. However, this is the gas that Bulgaria will not be able to receive until the interconnector is operational.
Vasil Velev, President of the Bulgarian Association of Industrial Capital, said at a recent meeting of the crisis management group that Bulgaria had no alternative to a long-term contract with Gazprom, as otherwise losses in the hundreds of millions per month threatened, reported EADaily. According to Velev's estimates, Russian gas would help save $180 million (over €180 million) a month.
"Any alternatives to Gazprom are much more expensive," said Vanya Grigorova, an economic adviser to the Support union. Dobri Mitrev from the Bulgarian Chamber of Commerce agreed with her.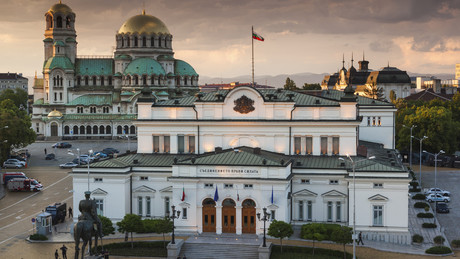 On August 21, Russian Ambassador to Bulgaria Eleonora Mitrofanova spoke in an interview with the news agency TASS on the question of Russian gas supplies. She said that the solution to this question entirely depends on the attitude of Bulgarian politicians. "I think that with the right political will there will be no problems with Gazprom, because it is not even necessary to sign a new contract to restore gas supplies. It is valid until the end of December, and it is also possible to talk about gas supplies talks, which were suspended at the end of April due to non-payment of gas in rubles. However, it is not possible to discuss the option of paying for gas in dollars or euros instead of rubles," stressed the ambassador.
Gazprom completely stopped gas supplies to Bulgargaz on April 27 because the company refused to make payments in rubles. Bulgaria then announced that it had found alternative sources of supply, including liquefied gas from the US and gas from Azerbaijan, at a price significantly lower than that offered by Gazprom.
More on the subject – Bulgaria will import LNG gas from the US
By blocking RT, the EU aims to silence a critical, non-pro-Western source of information. And not only with regard to the Ukraine war. Access to our website has been made more difficult, several social media have blocked our accounts. It is now up to all of us whether journalism beyond mainstream narratives can continue to be pursued in Germany and the EU. If you like our articles, feel free to share them wherever you are active. It's possible because the EU hasn't banned our work or reading and sharing our articles. Note: However, with the amendment of the "Audiovisual Media Service Act" on April 13, Austria introduced a change in this regard, which may also affect private individuals. That's why we ask you not to share our posts on social media in Austria until the situation has been clarified.