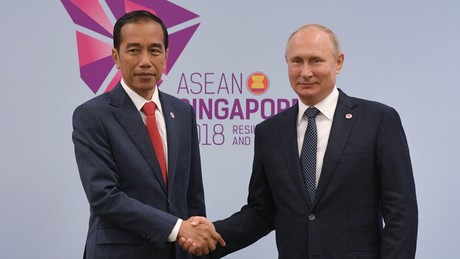 According to the Indonesian host, Joko Widodo, Vladimir Putin and Xi Jinping have confirmed to him that they will come to Bali for the G20 summit in November. Widodo explained this in an interview with the news agency Bloomberg:
"Xi Jinping will come. President Putin also informed me that he will come."
Received official confirmations of travel plans Bloomberg initially, however, neither from the Russian nor from the Chinese side. China's foreign ministry did not respond to a request as to whether Xi Jinping would actually arrive. He has not traveled abroad since the start of the COVID-19 pandemic. The Kremlin has also left open the personal participation of Putin.
If Vladimir Putin does travel, it would be his first face-to-face meeting with Western politicians since the start of the war in Ukraine. Mikhail Podoliak, an adviser to Ukraine's president, said earlier this month that Vladimir Zelensky would attend the G20 summit should Putin arrive. The host country Indonesia had shown its willingness to organize a meeting between the Russian and Ukrainian presidents on the sidelines of the G20 summit. The Indonesian ambassador in Moscow confirmed this last week.
Widodo went on to say in the interview that the rivalry between major countries is indeed worrying. "We want this region to be stable and peaceful so that we can build economic growth. And I think not only Indonesia but also Asian countries want the same." Indonesia is striving for trade and investment that will boost economic growth, Widodo said, adding that the country does not want to join any particular bloc. "Indonesia wants to be friends with everyone," he said. "We have no problems with any country."
more on the subject – What is the role of the G20 in contemporary geopolitics?