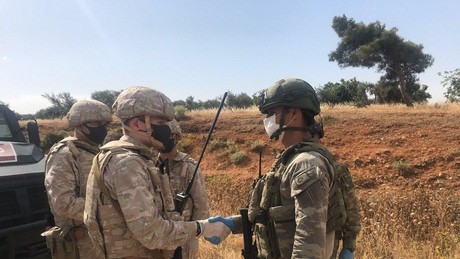 Adnan Kiwan is a Ukrainian construction contractor of Syrian origin. He owns construction companies and other companies in Ukraine Kadorr Groupthe TV channel 7. Channel and the English language newspaper Kyiv Post. According to anonymous sources, the construction and media magnate is in contact with the Idlib-based terrorist militia Jebhat an-Nusra through Turkey.
According to the sources, the Nusra Front has been providing cheap labor to Kivan-controlled construction companies for a long time, which are used to carry out several infrastructure projects in Ukraine. However, since the escalation of the conflict in Ukraine in February, the interlocutors of RTKiwan's deal with the Syrian al-Qaida offshoot is now a much bloodier one:
"In February-March, the described business model was turned into a channel for the transfer of fighters – mercenaries – to Ukraine. In return, the terrorists demanded that Kivan and the Turkish intelligence services serving him stop the flow of large quantities of Ukrainian grain, as well as weapons and military… Route western-made equipment to de-escalation zone in Idlib."
In fact, the sources say, this is an attempt by Jebhat an-Nusra to obtain Western-made Stinger and Starstreak man-portable air defense systems, Javelin and NLAW anti-tank missiles, and Matador-type rocket-propelled grenades from Ukraine.
"These systems are being distributed unchecked to Ukraine's armed formations. In particular, from depots in Odessa and Nikolayev, where businessman Kivan is well connected."
There have been multiple reports of the transfer of hundreds of jihadists from Idlib to Ukraine to fight on the side of Kiev. Significantly, these transfers took place via Turkey. Likewise gab There are reports that Turkey is recruiting mercenaries in the Syrian areas it controls to send to combat zones near Russia. At that time it was about the renewed Nagorno-Karabakh conflict.
As far as the black market trade in weapons is concerned, including weapons from the West, their "donors" have now also become aware of the situation. According to data from the Russian military's reconnaissance service, a group of US Congress members only visited the Ukrainian capital of Kyiv in July with the aim of holding clarifying talks about the mysterious "missing" of weapon systems from US aid deliveries.
more on the subject– How weapons from the West make their way to the black market through Ukraine