15 Aug 2022 4:41 p.m

The first grain ship to leave Ukraine since an internationally negotiated agreement to resume exports is headed for the Syrian port of Tartus after its cargo was refused in Lebanon due to delays, media reports said.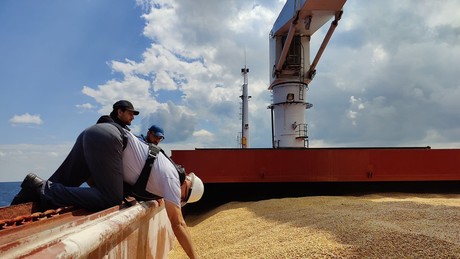 The first dry cargo ship with grain, in this case Maiskorn, which was piloted from Ukraine through the corridor to the Bosphorus cleared by Ukrainian sea mines, is now heading for Syria instead of Lebanon. As reported by Reuters on Sunday, citing two sources reportedthe ship sets course for Tartus.
Grain exports from Ukraine were disrupted for months after Russia began intervening in the country's eight-year-long civil war, which had been raging and smoldering, and the Ukrainian military mined the fairways of Ukrainian port cities as part of the fighting. On August 1, the Sierra Leone-flagged ship Razoni left the Ukrainian Black Sea port of Odessa with 26,000 tons of corn kernels on board. To Declarations the tracking website MarineTraffic.com the ship was in the eastern Mediterranean between Cyprus and the Syrian coast at the time of writing. The Razoni was previously anchored near the Turkish city of Mersin on Thursday.
The cargo was originally destined for Lebanon. However, the buyer there had refused the acceptance due to quality concerns that arose from the long delay in delivery. According to Message the Ukrainian embassy in Lebanon, the client was looking for other ways to unload the cargo in Lebanon or elsewhere. It appears that the port of Tartus in Syria is now the freighter's destination.
The agreement brokered by the UN and Turkey to resume supplies from Ukraine was struck late last month. Earlier, Kyiv had accused Moscow of blockading Ukrainian ports. On the other hand, Russia insisted on an assessment of the situation, according to which the ships were not allowed to put out to sea because of Ukrainian sea mines.
more on the subject – Sergei Lavrov: Russia's position on grain exports deal distorted by West
By blocking RT, the EU aims to silence a critical, non-pro-Western source of information. And not only with regard to the Ukraine war. Access to our website has been made more difficult, several social media have blocked our accounts. It is now up to all of us whether journalism beyond mainstream narratives can continue to be pursued in Germany and the EU. If you like our articles, feel free to share them wherever you are active. It's possible because the EU hasn't banned our work or reading and sharing our articles. Note: However, with the amendment of the "Audiovisual Media Service Act" on April 13, Austria introduced a change in this regard, which may also affect private individuals. That's why we ask you not to share our posts on social media in Austria until the situation has been clarified.