15 Aug 2022 5:40 p.m

At the beginning of August, Federal Minister of Health Lauterbach provided information about personal experiences with the corona virus, which are now being communicated almost verbatim by the chairman of the pharmaceutical company Pfizer. Despite booster vaccinations, a corona infection occurred, which is then treated with the Pfizer product Paxlovid.
Life goes crazy sometimes. Special times foster extraordinary events. Parallelisms can also simply reflect a moment of chance. That's what happened in the course of the month of August so far. The Federal Minister of Health, Karl Lauterbach (59 years old), informed on August 5 on his Twitter account:
"Unfortunately, despite taking great care, I fell ill with Corona. Despite the 4th vaccination. The symptoms are still mild. I take Paxlovid to avoid complications."
Exactly ten days later, on August 15, the US Chairman and Chief Executive Officer of the American pharmaceutical company Pfizer, Albert Bourla (60 years old), also reported via his Twitter account:
"I would like to let you know that I have tested positive for COVID-19. I am grateful to have received four doses of Pfizer-BioNTech's vaccine and I am feeling fine while having very mild symptoms. I I am isolating and have started treatment with Paxlovid."
I would like to let you know that I have tested positive for #COVID19. I am thankful to have received four doses of the Pfizer-BioNTech vaccine, and I am feeling well while experiencing very mild symptoms. I am isolating and have started a course of Paxlovid.

— Albert Bourla (@AlbertBourla) August 15, 2022
In this case, too, as with the corresponding information from Minister Lauterbach, it is irritating that even the CEO of the pharmaceutical company that brought the drug Paxlovid onto the market apparently knew the contents of the associated leaflet is unknown or he does not want to follow his own recommendations. These state:
"Paxlovid is indicated for the treatment of coronavirus disease 2019 (COVID-19) in adults who do not require supplemental oxygen and are at increased risk of developing severe COVID-19."
Albert Bourla, on the other hand, made the following additional assessment, which is at least controversial in terms of content:
"Paxlovid is unlicensed but cleared by the FDA for emergency use for the treatment of mild to moderate COVID-19 in high-risk patients 12 years of age and weighing at least 40 kg who test positive for a SARS-CoV-2 virus test."
Paxlovid is not approved, but is authorized for emergency use by the FDA to treat mild-to-moderate COVID-19 in high-risk patients 12+, weighing at least 40 kg, with positive results of SARS-CoV-2 viral testing. See safety info: https://t.co/XqokFVKBC7.

— Albert Bourla (@AlbertBourla) August 15, 2022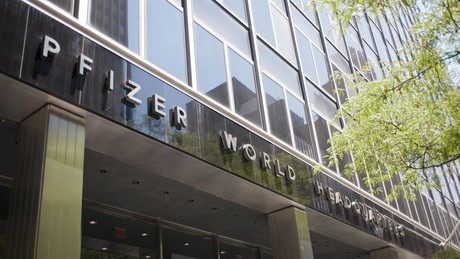 Bourla omitted the final formulation in the safety notice of the Paxlovid product. It states: "…who are at high risk of progression to severe COVID-19 disease, including hospitalization or death." The decisive factor also remains that the drug was originally intended to be administered only to unvaccinated patients. That's what it says loud study evaluations in March this year:
"Moreover, the drug is only suitable for a small group of people: "for unvaccinated people over the age of 65 who have not yet recovered (…) According to the present study, the drug is only suitable for patients without vaccination protection with at least a risk factor, including being over 50 years old."
Interested citizens may now be following with excitement when, i.e. in how many days, the Pfizer CEO will officially appear in public again after his isolation quarantine.
more on the subject – Violation of Berlin corona isolation obligation? Charge against Minister Lauterbach
By blocking RT, the EU aims to silence a critical, non-pro-Western source of information. And not only with regard to the Ukraine war. Access to our website has been made more difficult, several social media have blocked our accounts. It is now up to all of us whether journalism beyond mainstream narratives can continue to be pursued in Germany and the EU. If you like our articles, feel free to share them wherever you are active. It's possible because the EU hasn't banned our work or reading and sharing our articles. Note: However, with the amendment of the "Audiovisual Media Service Act" on April 13, Austria introduced a change in this regard, which may also affect private individuals. That's why we ask you not to share our posts on social media in Austria until the situation has been clarified.