15 Aug 2022 2:50 p.m

In an interview with the Wall Street Journal, Henry Kissinger criticized the aimlessness of the current Western politicians, who only react emotionally to the moment. The USA partly caused the danger of war with Russia or China itself.
On the occasion of the publication of his new book "Leadership: Six Studies in World Strategy" spoke 99-year-old former US Secretary of State Henry Kissinger on August 12 with the Wall Street Journal (WSJ).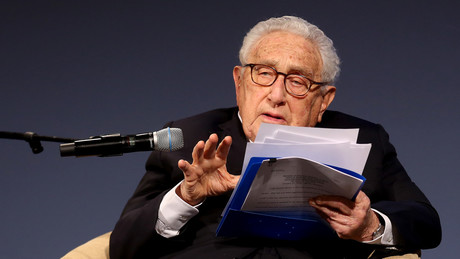 According to his own statement, in his new book he analyzes the visions and historical achievements of an "idiosyncratic pantheon" of leading politicians after the Second World War: Konrad Adenauer, Charles de Gaulle, Richard Nixon, Anwar Sadat, Lee Kuan-Yew and Margaret Thatcher. According to Kissinger, these former politicians combined two classic methods of leadership: the farsighted pragmatism of the statesman and the visionary audacity of the prophet.
He doesn't know of a contemporary head of state with this combination of qualities. That is why he complains that current politics is directionless and aimless:
"I think the current epoch has great difficulty in defining a direction. It is very responsive to the emotions of the moment."
As an expert on nuclear strategy, the former US Secretary of State has always understood diplomacy as a balancing act between great powers overshadowed by the potential for nuclear catastrophe. Due to the apocalyptic potential of modern weapons technology, he believes that maintaining the balance between hostile powers is an urgent requirement for international relations. He stated:
"In my opinion, balance has two components. A kind of balance of power and the acceptance of the legitimacy of sometimes opposing values. Because if you believe that the end result of your efforts must be the assertion of your values, then in my opinion there is a balance not possible."
A particular problem would be the Americans' refusal to fundamentally separate diplomacy from "personal relations with the enemy":
"They (Americans) tend to view negotiations as missionary rather than psychological, seeking to convert or condemn their interlocutors rather than penetrate their thinking."
Kissinger currently sees the world on the brink of a dangerous imbalance:
"We stand on the brink of war with Russia and China over issues, some of our own making, with no idea how this will end or what it will lead to."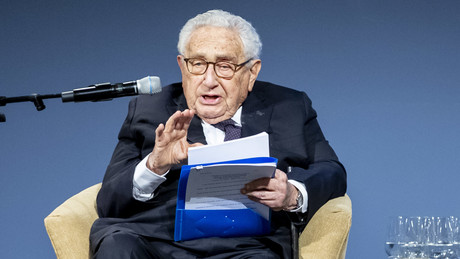 That's why he wonders whether the US could deal with the two adversaries by mediating between them, as it did in the Nixon years. But he doesn't have a simple recipe ready.
"You can't just say we're going to split them off and pit them against each other. All you can do is not to accelerate tensions and create options, and for that you have to have a goal," Kissinger explained.
With regard to the Ukraine crisis, so that WSJ, Kissinger hinted at the beginning of this year that "imprudent policies by the USA and NATO could have triggered the crisis in Ukraine". Now he see
"There is no other way but to take seriously the security concerns raised by Vladimir Putin and believes it was a mistake for NATO to signal Ukraine that it could join the Alliance."
After all, Ukraine is a collection of areas that once belonged to Russia. The Russians regarded these as their own, even if "some Ukrainians" would not do so, the US foreign policy expert justified his criticism of NATO.
more on the subject – Russian Foreign Ministry warns US of 'point of no return'
By blocking RT, the EU aims to silence a critical, non-pro-Western source of information. And not only with regard to the Ukraine war. Access to our website has been made more difficult, several social media have blocked our accounts. It is now up to all of us whether journalism beyond mainstream narratives can continue to be pursued in Germany and the EU. If you like our articles, feel free to share them wherever you are active. It's possible because the EU hasn't banned our work or reading and sharing our articles. Note: However, with the amendment of the "Audiovisual Media Service Act" on April 13, Austria introduced a change in this regard, which may also affect private individuals. That's why we ask you not to share our posts on social media in Austria until the situation has been clarified.