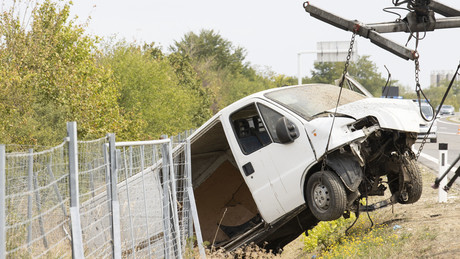 Ukrainian diplomats have been arrested by police for drunk driving after a chase through downtown Vienna. reports the Austrian Crown newspaper.
The incident happened on Friday morning. Four German holidaymakers were driving through the center of Vienna when another car collided with their car near the town hall and swerved into the oncoming lane. When the police arrived, the accident car – in which, according to witness statements, the driver had previously changed – accelerated strongly and drove off at high speed. An adventurous and dangerous chase ensued. Eventually, the police managed to catch up with the perpetrators.
The police had to force the occupants of the getaway car, guns drawn, to get out, which they did with great reluctance.
"No wonder: As has become known from insider circles, these men are high-ranking diplomats from the Ukrainian embassy.",
writes the Crown newspaper.
The driver (39) refused an alcohol test. His 33-year-old passenger, who according to witnesses was originally at the wheel of the car, agreed to an alcohol test with a breath alcohol meter. The device showed 2.33 per thousand.
Vienna is thus a victim of the Vienna Diplomatic Rights Convention, of all things: According to it, diplomats enjoy immunity and cannot be prosecuted without the consent of the sending state – no matter what they do in the host country. If the Ukrainian embassy in Vienna does not withdraw diplomatic immunity from the suspects, the killing spree will remain unpunished.
All that Austria could then do would be to shut down the perpetrators Unwelcome people explain and expel them from the country. But even that is currently unlikely given the free pass Ukraine has received from the West for any kind of transgressions and crimes.
Another serious accident that stirs up spirits and puts the incident with the Ukrainian diplomats in the shade also occurred in Austria on Saturday. As the Crown newspaper writes, a white van with Hungarian license plates broke through a control at the Kittsee/Jarovce border crossing at around 9.30 a.m., then veered to the right and overturned at the A6-Kittsee junction. During the rollover, people are said to have been thrown out of the hold.
There were said to be 20 illegal migrants in the vehicle. The police confirmed the Kronen Zeitung three dead and many injured, including children. The driver of the towing vehicle should have Russian citizenship.
more on the subject – Ukrainian embassy campaigned for fighters in Austria