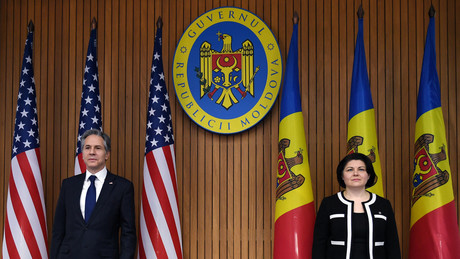 by Alexander Men
At the end of April, there were incidents in Moldova due to hostilities in neighboring Ukraine, which could have had dire consequences for the entire Black Sea region.
reports of the time according to Unknown persons have carried out several bomb attacks in the breakaway province of Transnistria, which shares a nearly 500-kilometer border with Ukraine and where Russian peacekeeping forces have been stationed for 30 years. The situation worsened to such an extent that fear of war broke out and many people feared an armed confrontation between Moldova and Russia. Fortunately, further escalation was avoided. Nevertheless, the security situation in Moldova remains difficult.
Above all, in view of the geopolitical dispute between the West and Russia, this development has made it clear that Moldova still harbors enough potential for conflict and therefore from numerous Experts | rightly regarded as the next dangerous trouble spot in Eastern Europe.
Tragic example of Ukraine
This potential for conflict was recently amplified many times over after Moldova's leadership decided to "go the way to Europe," come what may. Apparently, the country is supposed to be pursuing a strategy similar to that of Ukraine – including rapprochement with the EU and NATO with the prospect of joining these two blocs.
In the capital Chișinău, Russia's interests are apparently not taken into account, which is due to the tragic example of the post-Maidan development Ukraine offers little confidence for Moldova. As a reminder: After the bloody coup in Kyiv in February 2014, Ukraine embarked on an inexorable course towards EU and NATO membership and after a few months slipped into a civil war that has lasted to this day, which according to UN information is at least 13,000 fatalities demanded. In addition, after the "Euromaidan" the Ukrainian economy collapsed by half and got into debt. Since then, among other things, it has been dominated by the debt policy of the US IWF and World Bank controlled and balanced on the brink of bankruptcy for years.
Ukraine's "Western integration" reached its saddest peak for the time being with the military conflict with the nuclear power Russia, as a result of which Ukraine has already lost tens of thousands of soldiers and more than 25 percent of its territory. It is high time, therefore, to show the already visible parallels between this crisis country and Moldova, which is still at the beginning of its "journey to Europe", in order to warn this republic against a tragedy similar to that in Ukraine.
First of all, it must be stated that since the collapse of the USSR, Moldova has also been in the sphere of influence of both the West and Russia and also has an unresolved territorial conflict that was preceded by a bloody civil war in the Transnistrian region in 1992. Similar to the inner-Ukrainian conflict in Donbass, this conflict was the result of the fact that the Moldovan population was divided into a pro-Russian and a pro-European part and therefore could not agree on future prospects for their country.
Moldova's ideological Western integration
After losing the civil war, Chișinău felt compelled to recognize this situation and therefore pursue a balanced and neutral policy with regard to Western actors and Moscow. A neutral status has even been enshrined in the country's constitution. However, this approach was discontinued when the EU-oriented president came to power Maia Sandu 2020 revised in Moldova and the country should finally be Western-liberal and Member of the European Union will.
For Sandu, who, by the way, also theRomanian nationality and is therefore an EU citizen, it is obviously about more than just bribing the elites, which experience has shown would be typical of Moldovan politics and therefore would not pose a problem. No, as in the case of the Ukraine, it is probably about placing Moldova under the complete control of the West, especially in economic, security and ideological terms.
This can be implemented with the help of non-governmental organisations. Because NGOs are not only responsible for the financing, but also for the control and subsequent direct administration of those political forces that are willing to implement the instructions of Western actors.
For these actors, one of the greatest challenges in Western integration is the ideological division of Moldovan society. Many Moldovans want to maintain close ties with Russia, while the majority want to belong to the EU. So in order to bring people into line, the cultural and historical base of the Moldovan population should be changed and at the same time a new, negative perception of Russia in society should be formed. This is handled with the help of broadcasting and the education system, for example.
For this, the Moldovan authorities According to von Interfaxdecided that domestic television channels should only broadcast entertainment shows and no political or analytical programs from Russia. On the other hand, Western NGOs like the Soros Foundation Moldovaappropriate textbooks for schools and universities, which should make a significant contribution to the nationwide spread of Russophobia and the reinterpretation or falsification of Moldovan history.
Economic dependence on the West
In order to promote anti-Russian rhetoric and support the country's liberal-Western orientation, the US alone is said to have spent around one billion dollars on corresponding reforms in Moldova over the past two years provided have been. Since Washington, as is well known, does not give its financial "support" free of charge and the employees of NGOs and other activists for "democracy and civil society" do not work for free either, we would be concerned with the question of money or the financing of Moldova's western course.
A central aspect of Western integration is ensuring control over the Moldovan economy through financial institutions such as the IMF or the World Bank. Numerous experts are of the opinion that Chişinău is setting the course for a dangerous confrontation with Russia in accordance with Western economic guidelines.
The well-known Greek political scientist Paul Antonopoulos also leads in this regard Article states that the economic reforms aim to orient Moldova's economy towards Western markets, as the Ukraine war has affected trade corridors, supply chains and demand for products. New transport infrastructure and logistic hubs would be developed with US funding to strengthen Moldova's internal logistic potential and streamline customs procedures at the Moldovan-EU border crossings.
US officials would even openly admit, according to Antonopoulos, that there are plans in Washington to end trade and economic ties between Moldova and Russia, ultimately isolating Russians on the European continent.
Part 2 will be out on Sunday.
RT DE strives for a broad range of opinions. Guest posts and opinion pieces do not have to reflect the editor's point of view.
more on the subject – Transnistria announces plans to join Russia