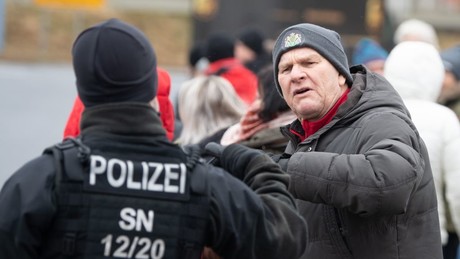 In a main hearing on July 12, 2022, the District Court of Zittau (Saxony) in the first instance acquitted a citizen of the allegation of insult. The complaint had previously been filed by a police officer who, on February 28 of the previous year, had asked the now acquitted to put on a medical mask over his mouth and nose during the protests in Oppach, Saxony. To which the citizen replied that the policeman "could cross him," which made the officer feel offended in his honor.
As a result of the main hearing, the criminal judge overturned the previously issued penalty order and acquitted the Saxon, who had not previously been convicted. In the written reasons for the judgment, which have now been published anonymously by the lawyer for the acquitted, the criminal judge carefully explains why the statement "You can cross me" is not an insult, but a common colloquial demand to be left alone. He came to the conclusion that the sentence "You can cross me over" means at least in the regional usage in East Saxony:
"Without me, I won't do it, leave me alone."
This request could not offend anyone, not even a police officer. According to the district court, it cannot be ruled out that the citizen simply wanted to end the discussion about mouth and nose protection with the sentence. On the other hand, it could not be ascertained that he wanted to inform the police officer that he was not or disregarded.
The "Freie Sachsen", who published the verdict, commented on the outcome of the first instance on their Telegram channel as follows:
"This is another victory for freedom of expression, which can certainly also be used in other proceedings for (alleged) insults that are thrown at many opposition citizens."
However, the judgment is not yet final. The district court of Görlitz will soon have to deal with the case in the second instance.
more on the subject – This is private – the Ministry of Health distances itself from Lauterbach's Twitter account