13 Aug 2022 7:28 pm

The FBI is investigating the ex-President of the United States, with whom secret documents had previously been found. Investigations are also being carried out on suspicion of document destruction and obstruction of the investigation. Trump could face jail time.
The US security agency FBI has suspected former US President Donald Trump of violating the espionage law, reported die Zeitung Politico citing information from a search warrant. Previously, secret documents in Trump's possession had been discovered.
The search warrant revealed that law enforcement authorities are investigating the former president on suspicion of destroying files, obstructing an investigation and violating the Espionage Act. He faces imprisonment.
As The Wall Street Journal reported, eleven classified documents, including top secret documents, were confiscated during the search. They also contained a handwritten note and a pardon document for Roger Stone, who had been convicted of perjury before the US Congress as part of the investigation into Russian "interference" in the US election. In addition, the confiscated documents related to "information about the French President".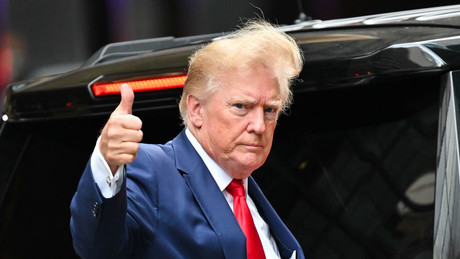 Die Zeitung The Washington Post wrote that Trump's home was searched for documents related to nuclear weapons, among other things. Trump called the search "an un-American, unjustified and unnecessary raid and burglary of my home" and asked for the relevant documents to be released.
FBI agents searched Trump's Mar-a-Lago estate in Florida on Monday. According to data from Politico and CNN Are they related to the former President's mishandling of White House documents? In February, the US National Archives and Records Administration told authorities that the former US leader allegedly removed about 15 boxes of documents, including classified information, from the White House. They were later returned. However, according to media reports, the US Department of Justice issued a search warrant for FBI officials to ensure that no White House documents remained at the property.
The former US President declined to testify, citing the Fifth Amendment, which gives citizens the right not to testify against themselves. He accused New York Attorney General Letitia James of orchestrating the country's "largest witch hunt in history."
more on the subject – FBI raid on ex-US President Trump: Authority is said to have searched for documents on nuclear weapons
By blocking RT, the EU aims to silence a critical, non-pro-Western source of information. And not only with regard to the Ukraine war. Access to our website has been made more difficult, several social media have blocked our accounts. It is now up to all of us whether journalism beyond mainstream narratives can continue to be pursued in Germany and the EU. If you like our articles, feel free to share them wherever you are active. This is possible because the EU has not banned our work or reading and sharing our articles. Note: However, with the amendment of the "Audiovisual Media Service Act" on April 13, Austria introduced a change in this regard, which may also affect private individuals. That's why we ask you not to share our posts on social media in Austria until the situation has been clarified.