11 Aug 2022 9:20 p.m

After almost six months of the sanctions policy, it seems clear that the effects will primarily affect the western states themselves. Former investment banker Thorsten Schulte explains that high energy prices in particular can lead to catastrophe.
One thing seems clear after almost six months of the sanctions policy: the losers are primarily on the side of the western states, which have to suffer from this political ideology. The Germans, who are already struggling with rising energy prices and high inflation rates, will be hit particularly hard. Living standards will fall and countless numbers will be pushed into poverty if there is no rethinking within political leaders.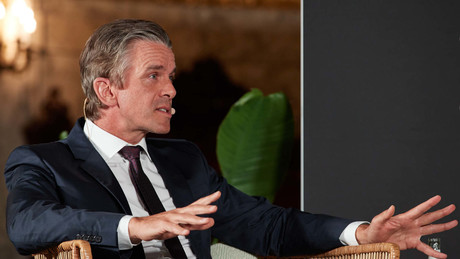 So the question arises: why is there no resistance against this policy in Germany? As was already the case in parts during the Corona crisis, which at least meant that a general obligation to vaccinate was not enforced. In an interview, the book author and former investment banker Thorsten Schulte talks about this question and explains what he believes needs to be done now. Schulte points out that today we are in a situation in which so much comes together:
"We have an energy crisis, electricity prices are exploding too, not just natural gas prices. Natural gas prices are currently making large parts of our economy uncompetitive."
The chemical industry, for example, is a leading indicator for the national economy, since it produces a large number of raw materials. In July, business expectations for the chemical industry fell to minus 45 percent. The last time there was a comparable slump was in the global economic crisis in 2009. It is also worrying that the German trade balance fell to minus one billion euros in May:
"The listeners will remember that we said: We are the world export champions! Then we were the vice world export champions. And this former world champion, this country, Germany, is now in deficit."
In particular, the high gas prices are problematic, and not just for private households:
"The effects on the chemical industry, on the steel industry, on many important industries, energy-intensive industries, gas-intensive industries are much worse. This is about jobs."
More on the subject – Are we governed or are we ruined? Is Vice Chancellor Habeck, who wants to "lead the way" for the United States, lying?
By blocking RT, the EU aims to silence a critical, non-pro-Western source of information. And not only with regard to the Ukraine war. Access to our website has been made more difficult, several social media have blocked our accounts. It is now up to all of us whether journalism beyond mainstream narratives can continue to be pursued in Germany and the EU. If you like our articles, feel free to share them wherever you are active. It's possible because the EU hasn't banned our work or reading and sharing our articles. Note: However, with the amendment of the "Audiovisual Media Service Act" on April 13, Austria introduced a change in this regard, which may also affect private individuals. That's why we ask you not to share our posts on social media in Austria until the situation has been clarified.