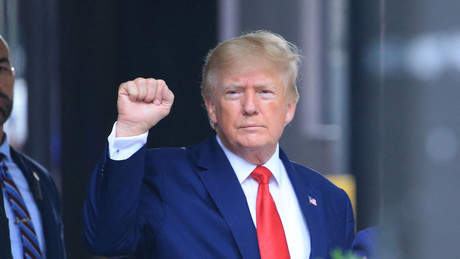 by Dagmar Henn
Does anyone remember the movie "War of the Roses" with Kathleen Turner and Michael Douglas? It was about a couple who are divorced and who, in a dispute over their shared property, destroy it and themselves. There's something about one of those spouses in the West right now. While the defense of "Western values" is loudly invoked, for which one must stand by Ukraine against Russia, these very values ​​are being shattered bit by bit. As unnoticed collateral damage of a hate-driven rage.
Although, the house remains standing in this film. The collective West is currently digging at the foundations. With a jackhammer, at least. Even if one does not believe in these values, there is something uncanny about watching such actions. Like a Catholic bishop pouring communion wine on the floor.
The latest such act was the FBI's search of Donald Trump's residence. The German press reacted as expected, no different from the way it had reacted over the years of his presidency, loyal to the democratic government. Only the Republicans "are outraged"(southern german), die TIME explained to Trump even "You can't get rid of him without handcuffs", and the FAZ writes on "Trump's Tale of Political Persecution." A scandal is seen in documents allegedly flushed down the toilet by Trump, not in the search.
The goal of somehow harming Trump seems to justify all means, since the German media are just an extension of the US mainstream. But here too, as in the case of Great Britain, the sanctions against one's own citizen are not just about a concrete action, but also a symbolic one.
Strange as it may sound to some, this symbolic level is ubiquitous in politics. I'm not talking about symbolic politics like the ones the Greens like to practice, in which three or four people mime protest for five minutes or genderless toilets are sold as a great success. I'm talking about the symbolism that is hidden in the daily processes of a protocol hierarchy that you actually have to perceive when you appear somewhere as a representative of more than yourself (one of many things that Annalena Baerbock completely lacks).
Its ingredients fall somewhere along the line from the ridiculous to the sacred. Like everywhere else, symbolic actions in politics can be false and mendacious, but also touching and real. Its basis lies in the collective nature of man; every collective develops symbols and rituals of self-assurance, you can already see that in football clubs. Political symbolism refers to the largest collectives known to mankind.
The reason why appearances by Foreign Minister Annalena Baerbock in a summer dress create a kind of symbolic dissonance is that the distinction between private and "official" clothing in politics is the symbol for the fact that an appearance is not made as a private person, that their personal likes and dislikes, but on behalf of a larger collective. Formal clothing signals, among other things, respect for the members of this collective who are not present, and private, "loose" clothing signals that this respect does not exist and that the person appearing sees their actions as legitimate in their own right, as a playing field for private inclination .
Many political positions are part of this symbolism to varying degrees. The position of US President is certainly among the most symbolically charged. After all, the US Constitution is very old, the role of the President was defined in the 18th century and still has clear echoes of royalty and its symbolic position. The British kings of the 18th century were already the ones after the beheading of Charles I, i.e. kings of lesser, limited power, so to speak.
Speaking of heads of kings – here, too, the symbolic level is at least as important as the political level; it is an act that cannot be reproduced, for whatever political system emerges after that will not resemble what came before. The person can be replaced. But the knowledge that power can be overcome remains.
There are many legally dubious aspects to the search of the former US President's mansion. This begins with the question of why a letter was not first sent to ask for certain files, as is normal manners. If you want to get back a wrench you borrowed from your neighbor, don't kick in the door right away. After that it would still have been possible to sue for the release of the files.
And of course it has an unpleasant aftertaste when the judge who signed off on the search warrant was, of all things, Jeffrey Epstein's private lawyer before taking up this office, and thus part of the Clinton circle, however marginal.
There is no law, US Democrats will now say, that forbids taking legal action against an ex-president. That's correct. But the law has two ends, two areas where it does not reach. At the lower end are actions that are so self-evident that they do not require any legal definition. At the high end, acts so unimaginable that legal definition makes no sense. There are no immigration laws for extraterrestrials, and no law forbidding the Pope from dancing naked in St. Peter's Square on a full moon.
In the nearly 250 years that the US Constitution has been in effect, only one former President has had his home searched. That's the one with Trump, a few days ago. There have been 45 presidents so far. Many of them had files in their homes. This is known simply because after their death they are usually kept in a library that bears their name. The destruction of files is a problem because the archiving obligation in the USA is very extensive; but a house search only reveals the existence of files, but not destruction.
And fundamentally, there is no secret from a president in a presidential constitution like the US. There is no information from his tenure that he is not entitled to receive. Only after the expiry of the term of office, and only in relation to events and files that came about afterwards, would there be any criticism.
It looks more like a petty, reverse re-enactment of the allegations against Hillary Clinton, who actually not only allowed communications from the State Department to run through her private computer, but also deleted such communications as well. The position of a president is different from that of a foreign minister.
This may temporarily give some of their fans a certain high. But what is happening to the role of President in the US? With the unmistakably mentally handicapped Joe Biden already being pretended to be an appropriate cast in a fundamental crisis? Or, to put it the other way around, if the next two years go on like this, what remains of this office and its place in American society, where any child can recite the entire list of presidents?
And this is not about foreign policy. It's about the set of beliefs that the camps in society still share. They might not even stop them from going at each other's throats, but they could be the basis for stopping it again and continuing to live together in one country.
The West began to show signs of this strange tendency to reveal principles that could still be important to itself in the summer of 2014, when the Russian embassy in Kyiv was attacked and the UN Security Council did not condemn this attack. This was an essentially mundane event that could have been routinely dealt with with a phrase of regret; in the previous decades, it was by no means an expression of particular sympathy to do so, but simply recognition of the fact that embassy security is a common interest.
In the same summer, the International Committee of the Red Cross accepted without objection that the Ukrainian troops were blocking the supply of humanitarian aid to the Donbass. A clear violation of the international laws of war, but because the ICRC did not protest, he remained invisible. The price for this was only an enormous loss of trust on the other side; no trifle for an organization whose origin lies in caring for war victims regardless of their affiliation.
So it went with one international organization after another; as if one wanted to deliberately smash to pieces any structure that enables a step towards peace with the chosen opponent. But in the meantime this process has penetrated deeply into their own politics. It is no longer just the vases that are smashed, the load-bearing walls are worked with the jackhammer and the foundations are dug.
It is not destruction from below, which is usually accompanied by a model of how things could be better managed. It is destruction from above, a power stripping itself of legitimacy (it is not possible to take action against ex-President Trump without weakening President Biden, just as it is not possible to take action against ex-Chancellor Schroeder , without harming Chancellor Scholz); which reacts to its weakness with furious accusations against every dissenting opinion, without being able to do anything about this weakness, which on the contrary takes ever further weakening steps.
Despite all efforts to recognize and name the rational driving forces behind this behavior, it remains an eerie, absurd theater. The Magna Carta? The position of the US President? To the fire with it. What began inconspicuously on the international stage, which was then continued with censorship and restriction of the corridor of opinion, has now reached the constitutional foundations, and the same thing is happening in one Western country after another. To the fire with it.
Neither the populations nor the states of the West disappear when the latter loses its position of power. Most ordinary people probably wouldn't even have noticed that had it not been for the forced showdown in Ukraine and the sanctions circus; only their own politicians compel them to take part in this theater of doom and do their best to ensure that nothing is left.
Meanwhile call like Monthy Python's Black Knight: "It's just a flesh wound!"
more on the subject – Britain dumps Magna Carta to punish Graham Phillips