10 Aug 2022 6:46 p.m

Dmitry Medvedev has slammed the President of Ukraine for calling for retaliation against all Russians. His criticism was posted on social media in response to an interview Vladimir Zelensky conducted with the Washington Post.
Ukrainian President Vladimir Zelensky apparently expects the collective West to take inspiration from German Nazi leader Adolf Hitler, former Russian President Dmitry Medvedev fumed on Tuesday, calling Zelensky "the greatest Ukrainian clown".
Medvedev, who currently holds the position of deputy chairman of Russia's National Security Council, fiercely attacked Zelensky for his calls for collective punishment of all Russians. This had demanded the deportation of all Russians from all Western countries – regardless of their political leanings or other circumstances.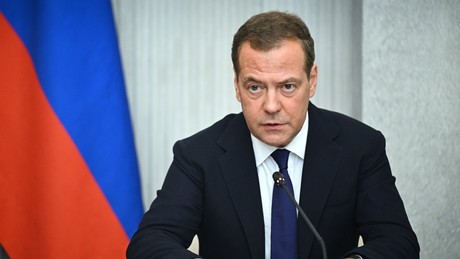 "Adolf Hitler also tried to implement such ideas in entire communities of nations," remarked Medvedev. "Are there any questions about the state of mind of the Ukrainian government?" asked he.
The extermination of undesirable groups of people in Nazi Germany, including Jews, Roma, gays and lesbians, as well as the disabled and communists, was one of the most extreme examples of collective punishment in history.
Medvedev's rebuke of Zelenskyi on his social media came in response to an interview with Zelenskyi last Monday by the Washington Post has been published. Speaking to the US newspaper, Zelensky called on all Western nations to expel all Russians living on their soil and to ban any new entry. Forced expulsion should also apply to opponents of the Russian government, Zelensky said.
"They will then say: 'But this war has nothing to do with us. After all, the entire Russian population cannot be held responsible for it' – yes, you can. This population elected this government, they do not fight it, do not criticize it and do not demonstrate against them." Russians should "live in their own world until they change their minds," he added.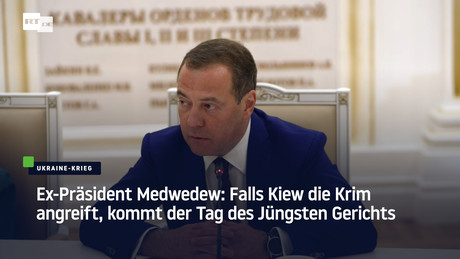 Zelenskyi seems hopeful that Russians abroad who are forced to return to their homeland against their will will then put pressure on the Russian government, which could prompt it to reconsider its policy towards Ukraine.
The "irrationality of the thought" exceeds every measure, said Moscow. "Sooner or later Europe will have to ask itself whether Zelensky is doing everything right and whether its own citizens should pay for his whims. Any attempt to isolate Russia or Russians is a hopeless process."
Meanwhile, Vladimir Zelensky reiterated his promise to the Ukrainians that "Crimea will be taken back." The region around the Black Sea cannot be safe as long as Crimea is occupied, he said in his video address that evening. "This Russian war against Ukraine, against all of free Europe, started with Crimea and must end with Crimea, with its liberation."
Russia regards the peninsula as its territory and has threatened massive retaliation if Ukraine attacks Crimea, which observers say could very likely take the form of bombings of government buildings and infrastructure in Kyiv itself.
more on the subject – The US propaganda machine can quickly create heroes, but it can also quickly change the script
By blocking RT, the EU aims to silence a critical, non-pro-Western source of information. And not only with regard to the Ukraine war. Access to our website has been made more difficult, several social media have blocked our accounts. It is now up to all of us whether journalism beyond mainstream narratives can continue to be pursued in Germany and the EU. If you like our articles, feel free to share them wherever you are active. It's possible because the EU hasn't banned our work or reading and sharing our articles. Note: However, with the amendment of the "Audiovisual Media Service Act" on April 13, Austria introduced a change in this regard, which may also affect private individuals. That's why we ask you not to share our posts on social media in Austria until the situation has been clarified.