6 Aug 2022 8:51 am

Should one reevaluate Hitler based on his war of aggression against the Russians? And what about Willy Brandt as a "Russian understander"? DIE PARTEI chairman Martin Sonneborn has the answers ready – and shows why the currently disastrous European and German politics can only be endured satirically more than ever.
by Kaspar Sachsen
He is considered the big political clown in the EU Parliament and hits the mark with his statements more often than some politicians from the former mainstream parties who pretend to be middle-class. In a summer interview with Telepolis disclosed DIE PARTEI chairman Martin Sonneborn once again used his very special sense of humour.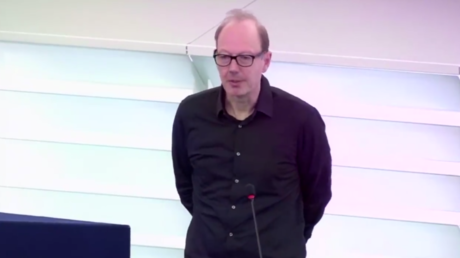 He doesn't give much credit to his own fitness for service, but when asked, "Should we have attacked Russia on the flank back then?" he replies. with a satirical broadside against the current Russophobia of numerous EU politicians in Brussels:
"It is important that we attacked at all. I assume that in the current situation Hitler will also be completely reassessed, after all he fought against the Russians. It seems that parts of the public are just about to open Willy Brandt to push Adolf Hitler's place and vice versa."
With regard to the rearmament and the possible acquisition of an aircraft carrier, Sonneborn shows the whole madness of current German politics, he says:
"If we are going to invest an insane 100 billion in military technology instead of in social systems and infrastructure, then please not in Franco-German projects. The traffic light prefers to buy in America: nuclear-capable aircraft, fracking gas, genetically modified soybeans."
The 57-year-old also takes aim at the role of the largest German armaments company and emphasizes:
"If you continue to consistently pursue the current worldwide shifts of taxpayers' money to the armaments industry, you get involved on both sides. Just like Rheinmetall did in the case of Russia/Ukraine."
With a view to the upcoming state elections in Lower Saxony and the possible role of his person and his party, Sonneborn sums it up:
"After Macron's successful founding of the La République en Marche party, I had 'Germany on the ass' protected. That fits perfectly, given the economic suicide that Groko Haram is currently committing."
What else is there to say? If satirists do better political analysis than "established" politicians, then the fall of the West not far anymore!
more on the subject – Ignorant handling of criticism? – Semsrott leaves the party after allegations of racism against Sonneborn
By blocking RT, the EU aims to silence a critical, non-pro-Western source of information. And not only with regard to the Ukraine war. Access to our website has been made more difficult, several social media have blocked our accounts. It is now up to all of us whether journalism beyond mainstream narratives can continue to be pursued in Germany and the EU. If you like our articles, feel free to share them wherever you are active. It's possible because the EU hasn't banned our work or reading and sharing our articles. Note: However, with the amendment of the "Audiovisual Media Service Act" on April 13, Austria introduced a change in this regard, which may also affect private individuals. That's why we ask you not to share our posts on social media in Austria until the situation has been clarified.
RT DE strives for a broad range of opinions. Guest posts and opinion pieces do not have to reflect the editor's point of view.