6 Aug 2022 10:32 am

As China continues military drills around Taiwan in retaliation for the provocative visit by US House Speaker Nancy Pelosi this week, senior Chinese military officials are said to have refused to return calls from their Pentagon counterparts.
Beijing is said to have turned down several calls from Defense Secretary Lloyd Austin and Joint Chiefs of Staff chairman General Mark Milley in recent days. "Three people who are familiar with the processes" explained this, as the US news portal said Politico reported that is owned by Springer-Verlag. Milley's last confirmed contact with China's chief of staff, General Li Zuocheng, was on July 7. In June, Austin met personally with Chinese Defense Minister General Wei Fenghe.
On Friday, Beijing decided to sever diplomatic ties with Washington in a number of military and civilian areas. China's foreign ministry released a list of issues on which there will be no more communications between Chinese and US officials, including military contacts at the commander-in-chief level and broader defense policy coordination talks.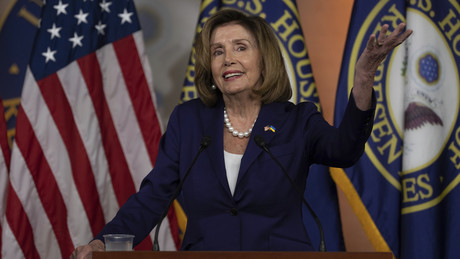 China also suspended consultations on maritime safety, cooperation on returning illegal migrants, mutual legal assistance in criminal matters, fighting cross-border crime and drug trafficking, and talks on climate change, it said in a statement.
The White House, while not commenting on the reports of the disruption in communications at the highest military level, said China's latest moves will increase the risk of miscalculation, though National Security Council spokesman John Kirby insisted it would limit opportunities for talks not completely ruled out for high-ranking members of our military. Kirby said on Friday:
"When you have so much military equipment in such a small space, it's good to keep those lines of communication open, especially now."
In response to Nancy Pelosi's brief visit, Beijing launched "unprecedented" military exercises and target practice in six sea areas around Taiwan on Thursday. According to China's Defense Ministry, the exercises will include simulating a "blockade" of the island, as well as amphibious operations and attacking ground targets.
As part of the One China Policy, China regards Taiwan as a Chinese province. This is also the prevailing view of international law. The United States also officially acknowledged this principle in the 1970s – as did the Taiwanese leadership itself in the early 1990s. However, there are differences regarding the precise interpretation of the principle.
Taiwan was part of the Chinese Empire for centuries. After defeat in the Chinese Civil War, the nationalists under Chiang Kai-shek withdrew to the archipelago in 1949, where they claimed to continue the old "Republic of China" against the communists on the mainland. However, the current Taiwanese ruling party, the DPP, believes that Taiwan has now become a completely new state.
more on the subject – Because of Pelosi's visit to Taiwan: China cancels working meetings with the USA
By blocking RT, the EU aims to silence a critical, non-pro-Western source of information. And not only with regard to the Ukraine war. Access to our website has been made more difficult, several social media have blocked our accounts. It is now up to all of us whether journalism beyond mainstream narratives can continue to be pursued in Germany and the EU. If you like our articles, feel free to share them wherever you are active. It's possible because the EU hasn't banned our work or reading and sharing our articles. Note: However, with the amendment of the "Audiovisual Media Service Act" on April 13, Austria introduced a change in this regard, which may also affect private individuals. That's why we ask you not to share our posts on social media in Austria until the situation has been clarified.