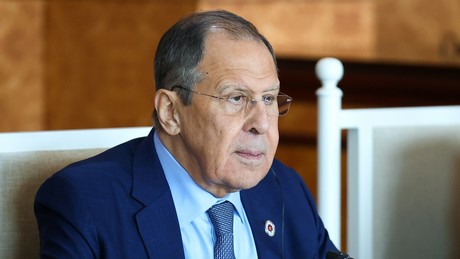 The orientation of US policy towards dominating all parts of the world and suppressing the autonomy of other countries has no future. This was stated by Russian Foreign Minister Sergei Lavrov at a meeting with his Chinese counterpart Wang Yi during the Association of Southeast Asian Nations (ASEAN) ministerial meeting.
The Secretary of State criticized the US for attempting to assert "its supremacy" around the world and showing itself to be "self-empowered". Lavrov said:
"Anyone who follows this always understands the pointlessness of a policy in which you turn a blind eye to a situation, a crisis caused by the United States, and expect that everything will be more or less fine. No, the Americans have embarked on a course to suppress all independence."
He pointed out that both US action in Ukraine, where Washington ignored "racist policies" and posed a "threat" to Moscow, and US House Speaker Nancy Pelosi's visit to Taiwan despite Chinese Protests are examples of this practice and the violation of their own principles.
Earlier, Russian President Vladimir Putin said that a new period of history has begun in the world, as the unipolar system that "Western and so-called supranational elites" want to preserve is being dismantled. In this new period, however, development will be ensured by "truly sovereign states," said the head of state.
Last year, US President Joe Biden announced that Russia and China "back autocracy" and that democracy must therefore stand up and show what it can do. He also pointed out that the United States should be at the forefront of the free world because no one else in the world could play that role. The US leader also added that US troops are "fighting" for democracy "on the battlefields of the world" because democracy is "under threat" and their fight against authoritarianism is in full swing.
more on the subject – Pelosi in Taiwan: China was unwilling to jeopardize the peace – yet!